Rangers fans contribute £500,000 for Ibrox legal fight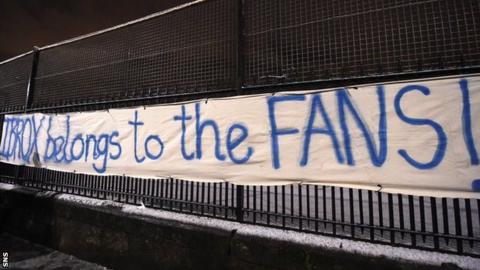 The Rangers Supporters Trust (RST) has secured more than £500,000 funding for their legal fight to prevent Ibrox Stadium being used for loan security.
The money was donated by the Rangers Fans Fighting Fund (RFFF), set up when Rangers Football Club plc entered administration in 2012.
The fund was established by donations.
The Rangers board recently agreed to advance notices of security being lodged in the name of Sports Direct for training ground Murray Park and Ibrox.
Rangers need immediate funding, with the club currently unable to pay this month's wage bill.
A £10m loan has been offered by Mike Ashley, the owner of Sports Direct and Newcastle United, who holds an 8.92% stake in Rangers International Football Club (RIFC) and whose representatives, Derek Llambias and Barry Leach, now hold executive positions at Ibrox.
Ashley wants security over Ibrox and Murray Park in return, since his loan cannot be converted into equity because the Scottish Football Association rejected his request, under dual ownership regulations, to increase his stake above 10%.
An alternative funding package has been offered by a consortium of Rangers supporting businessmen - Douglas Park, George Letham and George Taylor - who between them own 20% of RIFC.
They have informed the board that they will provide as much funding as is required, with the loan to then be turned into equity. They are seeking security over Murray Park alone.
The RIFC chairman, David Somers, has previously insisted that Ibrox would not be used for security.
The RST sought advice from lawyers to determine if his comments constituted a legal commitment but were advised that a legal challenge would not be successful.
However, the group intends to continue campaigning to prevent Ibrox being used as security, particularly with the business posting substantial losses each month and so being at risk of default.
"The Rangers Supporters Trust is delighted to announce that the Rangers Fans Fighting Fund has thrown its considerable finances and influence behind the RST's continuing fight to ensure Ibrox remains under the control of the club," said the RST in a statement.
"There is now a substantial legal fund available, should it be required, to fight any attempt by this board to pass security over Ibrox to Mike Ashley. We will work closely with the RFFF going forward to ensure every avenue is explored.
"We are delighted to provide the necessary legal standing, through our shareholder status, to enable Rangers fans to fight for our spiritual home.
"Derek Llambias, Barry Leach, David Somers and [non-executive director] James Easdale should be under no illusions that we will examine every available legal remedy to stop them passing our club's assets to Mr Ashley.
"There will be a forensic examination of the directors' actions and also the actions of Paul Shackleton and Adrian Hadden at the Nomad [nominated adviser on the AIM stock exchange], WH Ireland.
"It is our understanding that they would have to agree to, and sign off, the granting of a security over Ibrox and we maintain that proper levels of corporate governance are not being adhered to.
"Should they sign off such a move we will also examine all remedies against them."
The RFFF said in a statement: "Mr Ashley already has security over Edmiston House and the Albion Car Park and the RFFF, like almost all Rangers supporters, feels securitising our historic stadium and training ground is a step too far.
"Ibrox, in our view, is sacrosanct. It is a memorial to the 66 who lost their lives [in the 1971 disaster]. Some of the greatest names in Scottish football history have graced the hallowed turf down the years and it should never be used as collateral in order to secure a loan that is not in the best interests of the club."