Aston Villa's attack has become a 'full-blown embarrassment'
Last updated on .From the section Football

In his regular BBC Sport column, Robbie Savage looks at why Aston Villa have the worst goals-per-game ratio by any of the 649 teams in the top nine tiers of the English football pyramid as they prepare to face Bournemouth in the FA Cup.
Aston Villa are struggling badly and Sunday's FA Cup tie against Bournemouth is a massive game for manager Paul Lambert and his side's season overall.
Liverpool showed recently the difference that a good cup win can make - there was talk they were in crisis before they played the Cherries in the Capital One Cup in mid-December but, since winning that game, they have not looked back and are unbeaten in eight matches.
A win for Villa on Sunday, however they get it against the Championship leaders, could have the same effect.
But defeat would make a bad situation in the Premier League even worse.
Some of their fans are already calling for Lambert to get the sack, and losing to Bournemouth might be the tipping point for the ones who have backed him up until now.
Where have the goals gone?
You can hardly blame the Villa fans who have already had enough. Their side's lack of goals has long been a worry, but now it is a full-blown embarrassment.
There is a great stat that Bournemouth have scored more goals in one game in Birmingham this season - an 8-0 win over Villa's neighbours Birmingham City at St Andrew's in October - than Lambert's side have managed in their 11 home Premier League games this campaign.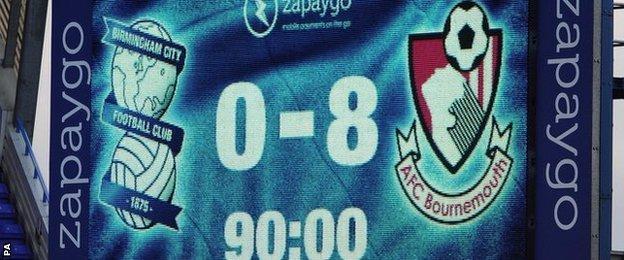 Villa have scored seven at home and only 11 in total in 22 matches.
That is not only the worst goals-per-game ratio in the top division of any of Europe's major leagues - England, Spain, Germany, France and Italy - but also the worst goals-per-game ratio by any of the 649 teams in the top nine tiers of the English football pyramid.
If they continue scoring at their current rate until the end of the season, Villa will break the Premier League record for the lowest total, currently held by the Derby team I played for in 2007-08 with 20.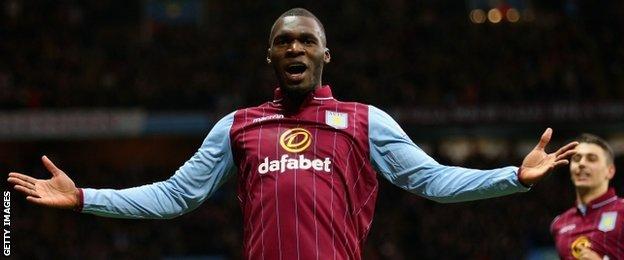 That Rams side, the worst in Premier League history after getting relegated with just one win and 11 points, are the only team to have scored fewer goals than Villa after 22 games of the season.
Derby managed 10, although I made a big difference when I joined in January and helped us score three goals in our next three games after I made my debut.
Seriously though, whichever way you look at it, Villa's goal record is shocking. And the real worry for Lambert is what that means for their survival hopes, and his job prospects.
Why aren't Villa scoring?
I looked at the lack of creativity in Villa's midfield on Match of the Day 2 on Sunday.
Their three main midfielders - Ashley Westwood, Tom Cleverley and Carlos Sanchez, have only managed one assist between them. And Chelsea's Cesc Fabregas has created more chances on his own than those three have put together.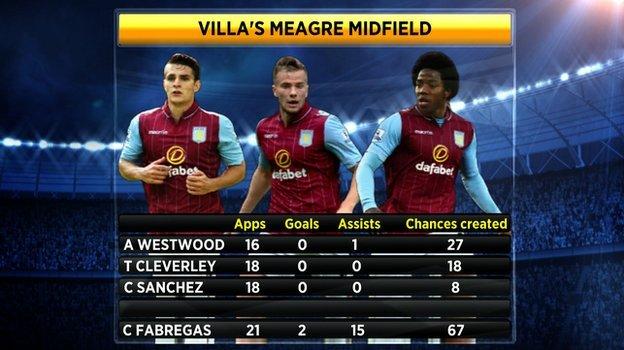 This season, Villa have played more passes per game, and with better accuracy, than any time since Lambert took charge, but all of that is pointless when there are no playmakers in their midfield and nobody to play the killer pass.
Carles Gil has been brought in to give them more guile, and he looked lively for half an hour on his debut against Liverpool on Saturday.
But he only managed two assists in 33 games for Elche in La Liga last season and it is asking a lot for any player to come straight into the Premier League and make a difference on his own at a club that is struggling so badly.
In any case, even if Villa do start creating chances they need to start taking them too.
Their shooting accuracy (36.6%), shot conversion figures (6.7%) and number of shots on target (56) are the worst in the top flight.
A big part of that is down to Christian Benteke's loss of form.
It is hard to think of another player who is so crucial to any other Premier League team because, if he does not score, it seems nobody else does.
So this is a bad time for Benteke to be having his worst run in front of goal since he arrived at Villa Park in 2012. He is having more shots than ever before but his accuracy is poor compared to his usual standards.
Christian Benteke in the Premier League

Season

2012-13

2013-14

2014-15

Minutes

2823

2128

1075

Goals

19

10

2

Mins per goal

148.6

212.8

537.5

Mins per shot

38.7

40.2

33.6

Shooting accuracy

58.9%

52.8%

37.5%

Conversion rate

26%

18.9%

6.3%

Stats: Opta
With Benteke up front, Fabien Delph in midfield, Ron Vlaar at the back and Brad Guzan in goal, Villa have the spine of a very good team, but they need all four to be fit and in form.
There is no doubt who is proving to be the most valuable at the moment - Guzan.
He has been fantastic and his save percentage is up dramatically (from 64.9% to 73.7%) compared to 12 months ago, which is especially important when you consider Villa's problems scoring.
All five of their league wins have come via one-goal margins and he has kept seven clean sheets that have helped Villa pick up 11 of their 22 points. Without Guzan, they would be in even bigger trouble.
What next for Villa and Lambert?
We all know Lambert's situation - he has not had a huge amount to spend, and Villa's owner Randy Lerner has put the club up for sale.
Even so, he should be doing far better than he is.
Lambert started off signing young players, but went for experience last summer. Either way, his recruitment has been poor, recent results have been awful and the team's style of play is not improving.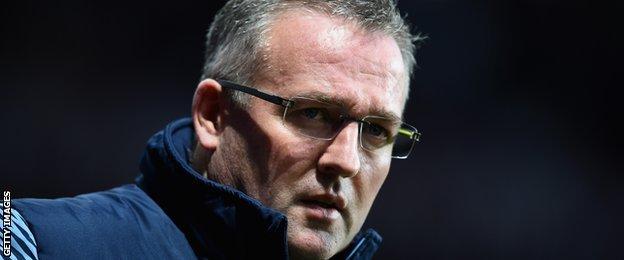 Burnley are the best example of how a Premier League team with no spending power can have a goal threat and be good to watch. Villa are neither.
I like Lambert, and the way he handles himself - he is very honest - but he has got to change the way his team play, and quickly.
I know that my time playing for Birmingham means I don't have the best relationship with Villa fans, especially after tipping them to go down in recent seasons.
I did the same ahead of this campaign but changed my mind when Lambert brought in Cleverley and Sanchez, who I wrongly thought would make a difference.
It is looking more and more like my first prediction might come true, which is a lesson to me not to change my mind in future.
They are only three points above the relegation zone after managing just one point and one goal in their last seven matches, and it looks like their best bet of survival is that there are three teams who are worse than them.
These are worrying times for Lambert too. He signed a four-year contract in September but his future is by no means certain even if they do stay up.
His aim has to be to win the fans back over but, first things first, he must focus on beating Bournemouth. Lose, and the pressure will really be on.
Robbie Savage was speaking to BBC Sport's Chris Bevan