Rangers: Dave King confident over possible role at club

By Richard Wilson
BBC Scotland
Last updated on .From the section Football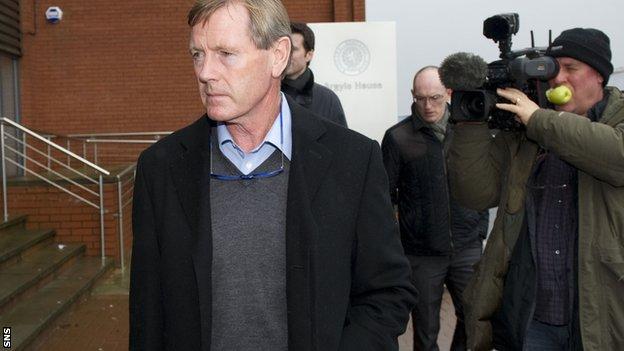 Dave King insists his tax history in South Africa will not preclude him from becoming a director of Rangers.
The Johannesburg-based businessman has called for a general meeting to remove four directors and replace them with himself, Paul Murray and John Gilligan, a former Tennents managing director.
In 2013, King plead guilty to 41 counts of breaching Income Tax Act laws.
He paid a £4,500 fine for each contravention, as well as settling a £40m tax bill.
King remains, though, executive chairman of Micromega Holdings, which is listed on the Johannesburg Stock Exchange, and which counts the South African government among its clients.
Recent reports in South Africa have also suggested that some South African Revenue Services cases could be reopened, after a group of rogue investigators were found to have been using illegal surveillance techniques. King, though, has no intention of seeking a review of his own case.
The BBC also understands that SARS have provided a written statement to King that he is clear of all his tax liabilities and that there is nothing to preclude him from serving as a director of a publicly listed company.
If King is successful at the GM vote, he has a new nominated advisor - the company which manages Rangers International Football Club's listing on the Alternative Investment Market - lined up, which will back his appointment as a director.
"There has been media coverage in the UK following a report in the South African Sunday Times that dealt with the suspension of senior managers of the South African Revenue Services ("SARS") for allegedly operating a rogue intelligence unit that spied on senior politicians and businessmen. I am named in the report as one of the business people who was spied on," King said.

"It was suggested in the Sunday Times report that this unlawful activity by SARS could put many of the recently concluded tax settlements at risk - mine included. This is an obvious conclusion for the journalist to reach.
"If SARS obtained information unlawfully and such information was used to coerce settlement with me (or any other taxpayer) then I could apply to have my settlement set aside. According to my advice that is the correct legal position.
"For the avoidance of doubt I wish to make my position clear. I will not be making an application to have my settlement reviewed and/or set aside for two reasons: My settlement resulted from prolonged and robust litigation that was fully in the public arena.
"There was no information produced or used by SARS that was unlawfully gained and, in my opinion, the individuals I dealt with at SARS acted in good faith - both during and after my settlement negotiations. I consequently have no legal basis to argue for the review and setting aside of my settlement.
"[And] even if my legal team could make out a case for review I would not pursue it. I am happy with the settlement and the opportunity this created for me to lead a normal business and personal life.
"My business interests have performed very strongly post-settlement with the SA government by far my largest customer. I am also able to enjoy my role as executive chairman of a public company without the integrity issues that previously dogged me.
"Importantly, I also now have sufficient time and resources to invest in getting Rangers back on track."
In order to become a director of the club, King will also need approval from the Scottish Football Association, because of his tax convictions and having been a member of the board when Craig Whyte put Rangers Football Club plc into administration in 2012.
King will have to submit his case to the Professional Game Board.