Fifa presidency hopeful David Ginola is back to school in Wales
By Mark Poyser
BBC Wales football reporter
Last updated on .From the section Football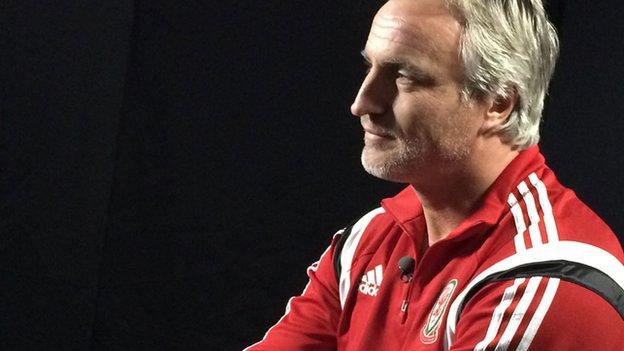 David Ginola interview
Watch David Ginola's interview on Sport Wales at 19:00 GMT, BBC Two Wales, Friday, 23 January.
In the week following his shock announcement that he is standing for the presidency of Fifa, David Ginola has been hard at work in a classroom in south Wales.
The 47-year-old Frenchman blurred the lines between sporting brilliance and the glamour business in his playing heyday - but this week it's been about homework and text books as he studies for his Uefa A licence in Newport.
The city may not be an obvious choice for the start of a charm offensive - but if it was good enough for the 2014 Nato summit, President Obama and the 2010 Ryder Cup, then why not Ginola?
As a player David Ginola excited and enthralled fans with his flair and skill. Now he wants to engage them.
After launching his bid to oust Sepp Blatter from the top of football's world governing body, has ground to make up.
He is being paid £250,000 by a betting firm, which denies the campaign is a publicity stunt - though the campaign launch has been mainly derided by the national media.
But for the moment he is concentrating on his studies with the Football Association of Wales (FAW) at the new Dragon Park facility in Newport.
"It's like going back to school," said Ginola "you're sitting, listening, learning. It is hard work."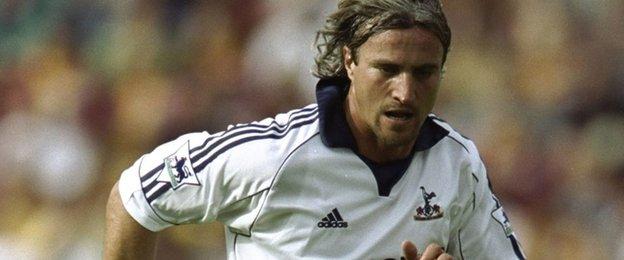 The course run by the FAW Trusts' Technical Director Osian Roberts is gaining a big reputation, having already attracted the likes of Patrick Vieira, Sol Campbell and Tim Sherwood in recent times.
Roberts is also assistant to Wales manager Chris Coleman.
"We [myself and Osian] get on very well together," said Ginola.
"He's a competent person with very good knowledge, fantastic.
"It's the quality of the course. The reception we get here is just amazing. Welsh people are fantastic."
It's no surprise he has such kind words for Wales. Amongst the conditions for being able to challenge for Fifa presidency, Ginola will need the support of five national associations by the end of January.
He's coy on whether Wales will be the first.
"We'll see," he said.
"You can't know everything about it, not yet. It's too soon. It's a priority to get them [the national associations], I hope Wales will be one."
As he sits down for our interview, the normally sharp-dressed man is wearing FAW training gear, but still oozes French charm. He says all the things any Welshman would want to hear.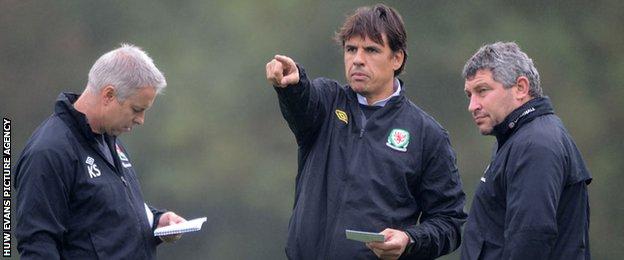 He raves about the welcome he's received from all the parts of the country he's visited and even backs Chris Coleman's team to qualify for the finals of the European Championships in his homeland in 2016.
He said: "I saw the improvement of Wales in the last few games, they can rely on some great players.
"I would love to see Osian and the team back in France, it would be just amazing."
He doesn't stop there though. Mention the words Gareth Bale and a big grin appears on his face.
"I followed him at Spurs, his improvement was so fast I could not believe myself. We [Spurs] became a major figure in Europe. He can take Wales to the best competition in the world."
During his time at White Hart Lane, Ginola was often labelled as a 'luxury' player who didn't defend.
Now at Real Madrid Bale has been booed by some sections of the Bernabeu for not passing the ball to Cristiano Ronaldo enough. "You can always find negativity in football," said Ginola.
"We are human beings we will always analyse that. In the near future they will score goals together and assist goals together. Things will change very quickly.
Ginola's playing career
Won 17 French caps, played for a decade in his native country, including at Paris St-Germain, before signing for Newcastle for £2.5m in 1995.
Joined Spurs for £2.5m in 1997, moving on to Aston Villa in 2000 and going on to finish his Premier League career at Everton in 2002.
"When you have had a taste of Spanish football he would have to think twice [about a return to the Premier League] but why not? To see him back in the Premier League would be amazing but at the moment he needs to prove Madrid was the right choice."
In the 35 minutes we spend together he ticks pretty much most of the Welsh boxes.
He must now hope the FAW are listening. Before revealing details of his manifesto this week he even found time to visit Pentyrch Primary School in Cardiff, though the children will be far easier to win over than the doubting media and public who he needs to support his Fifa challenge.
Ginola was the Premier League pin-up long before the likes of David Beckham came onto the scene.
He now needs to summon all of his flair and charm in a match tougher than anything he experienced as a player.
But that's the thing about 'luxury' players, they never take the easy route, they revel in trying to make the impossible possible.