Football Association agrees to make World Cup file available
Last updated on .From the section World Cup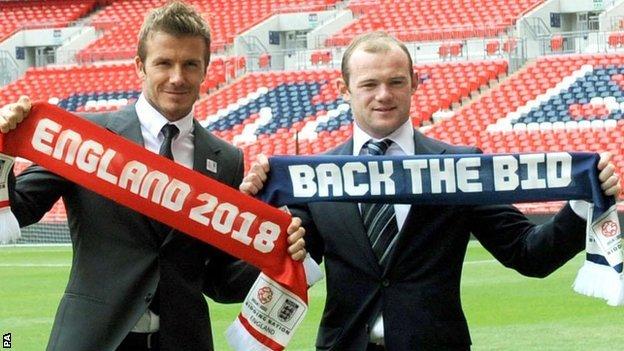 The Football Association has agreed to make its file on Fifa members, compiled during England's failed 2018 World Cup bid, available to MPs.
Former sports minister Gerry Sutcliffe said the FA would allow some members of the culture, media and sport select committee to see the files.
He added: "We will see what was held at the time."
Information is believed to be stored on Fifa's executive committee members who voted on the 2018 and 2022 World Cups.
Sutcliffe was in Brussels at the 'New Fifa Now' summit, which is calling for reform of football's world governing body.
The summit was organised by Damian Collins MP and the Euro MP Emma McClarkin.
Collins called for a "broad based Fifa reform commission" to evaluate how the organisation could change.
The meeting also focused on the upcoming Fifa presidential election.
Sutcliffe said the FA had been reluctant to show the committee the file but had eventually agreed to let some members have access to specific files.
Speaking in Brussels, he added: "I think part of this file was compiled using the intelligence services.
"Public money was used on the bid from the bidding cities and the Government was asked to give guarantees, so we need to know about this."