Stephen Hendrie's move to West Ham is off - Accies vice-chair
Last updated on .From the section Football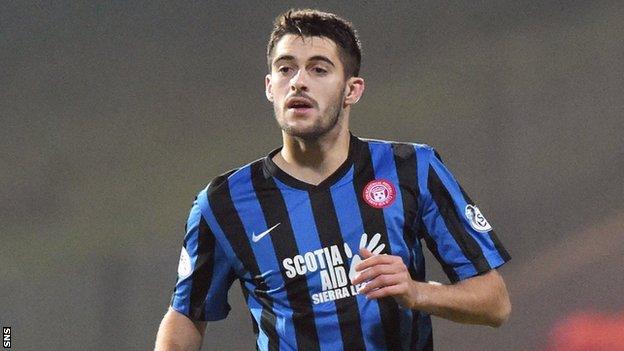 The proposed transfer of Hamilton Academical defender Stephen Hendrie to West Ham is off, according to Accies' vice-chairman Ronnie MacDonald.
He told BBC Scotland the left-back had agreed terms in a deal "well in excess of" £2m but that the Londoners had failed to complete the move.
"I couldn't care if I never heard from them again," said MacDonald.
"It's one thing a deal between clubs falling down, but I think it is totally unfair on the player."
MacDonald is irked that the move to the Hammers collapsed despite the clubs agreeing a fee and the talented 20-year-old left-back accepting personal terms, as agreed by his agent.
"We were offered a fee for Stephen by Crystal Palace in December when the previous manager was there, which we more or less accepted," explained MacDonald.
"We were in the midst of discussing it when West Ham came on and wanted to sign Stephen.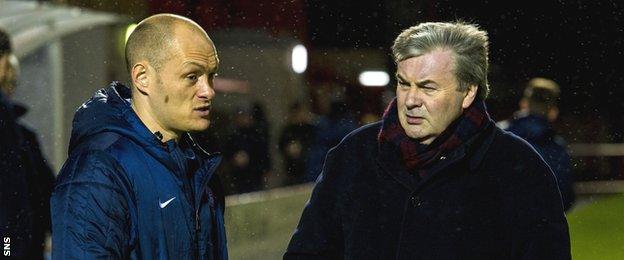 "We had meaningful discussions with them and went to London and met the owner. It was followed up by an offer that we agreed by email.
"At the same time the player agreed terms through his agent and we returned to Scotland and waited for the formal offer to appear.
"They said they would come up and do it in person on 1 January. They said they couldn't make it and they'd be up on 4 January and after that [we] said enough's enough, so the deal was dead then.
"We have had two other enquiries and I have told them we have no commitment to West Ham and we are willing to listen to Stephen, as we are with all the boys."
MacDonald claims the agent had also agreed his own fee for the move and added that Accies "just want to look after the boy and get on with our life".
The Accies vice-chairman revealed that the club's confidence in its players to prosper with bigger clubs affects how it structures transfers.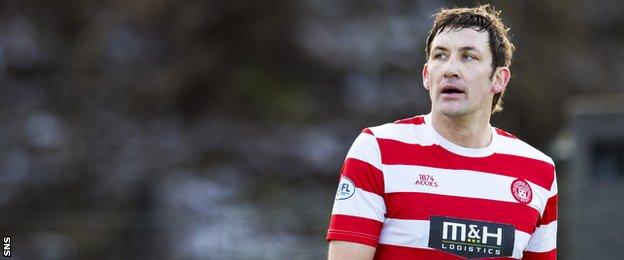 "Our record shows we sell reasonably," he said.
"We believe the boys can make it, so add-ons can make a huge difference to the final sum."
Asked about the accuracy of the reported fee of £2m sought from West Ham for Hendrie, a player who is out of contract in the summer, MacDonald replied: "I can tell you I'll not be selling a player like Stephen Hendrie, with add-ons, for £2m. It was well in excess of that.
"Billy [Reid, a previous Accies boss] had him in the first team at 16. Stephen is our second youngest player to play 100 competitive first-team games. He's at 120 and he's 20. He has done tremendously well."
With players of the calibre of James McArthur, James McCarthy and Brian Easton having come through the Accies ranks, the club has earned a reputation for giving young players a chance.
"If you have not been in our first team by the time you are 18, it is not going to happen," MacDonald told Sportsound listeners.
"We want to be known as the club of opportunity. The more kids that come though and play for their local club, [the better], and if they are good enough to move on from there then that's fantastic for everybody."
MacDonald said Hamilton had received 78 applications from candidates keen to become their new manager, with Alex Neil having left for Norwich.
On Thursday, with the club keen to maintain continuity, it became clear that interim manager Martin Canning would be given the job.
"He has been excellent with the players," said coach Frankie McAvoy, who will soon join Neil at Carrow Road, after the surprise 5-0 defeat by Partick Thistle on Wednesday.
"Tonight is no reflection on him at all. His preparation has been brilliant."