Afcon 2015: Zambia coach Honour Janza angry with 'selfish egos'
Last updated on .From the section Football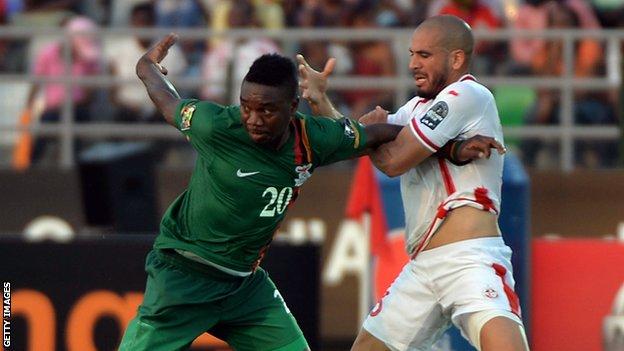 Zambia coach Honour Janza has criticised his team for selfish play after they were beaten 2-1 by Tunisia at the Africa Cup of Nations.
The Copper Bullets missed several excellent chances before they were undone by two late goals, to leave them bottom of Group B.
"Playing as a team in the last third is the most important thing," Janza said.
"We created more chances, could have scored maybe four goals, but because of selfish egos, it's difficult."
Zambia won the 2012 tournament, when good teamwork was considered to be one of the cornerstones of their victory.
But Janza accused the current team of "playing individual football", adding: "In the last third, everybody wants to score, but it's better to give the pass to somebody who is in a good position, because at the end of it it's the whole team that benefits."
Zambia skipper Rainford Kalaba, who was named man of the match, agreed with his coach, saying: "I think we need to change the mentality, because the mentality is not good.
"We are able to score, but we are not yet capable of defending the goal."
Southampton striker Emmanuel Mayuka, who scored Zambia's goal but also missed several clear chances, went off injured and was transported from the stadium in an ambulance.
Janza said his injury "looked to be very serious".