Leeds United: Massimo Cellino steps down until April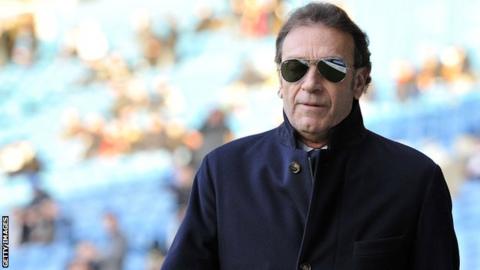 Leeds United owner Massimo Cellino has stepped down from his involvement with the Championship club until 10 April.
BBC Radio Leeds reports that director Andrew Umbers has become chairman.
Earlier this month against the Football League's decision to disqualify him as owner.
He said in a statement on the club's website: "It is with great sadness and frustration that I have to take this step, however I abide by the Football League's decision to disqualify me."
He added: "I will return to this great football club in April in good health and good spirits.
"I have done my best for a club and fans that I hold close to my heart and it is now financially much stronger than it has been for a long time."
Who is the new Leeds chairman?
Investment banker Andrew Umbers was the man tasked by the previous Leeds United owners GFH Capital, who still own 25% of the club, to find new investors - the man he found was Massimo Cellino.
He has since remained at the club as an advisor to the Italian on the club's board.
Recently he was part of the defence team at the Football League appeal hearing against Cellino's conviction.
The 58-year-old was after the League obtained documents from an Italian court, which had found him guilty of tax evasion.
The Professional Conduct Committee set up by the Football League to hear Cellino's appeal against the decision ruled that the verdict of the Italian court was for an act involving dishonesty, which is a disqualifying condition under its owners' and directors' test.
A Football League statement read: "The League has been notified by Leeds United that its President, Massimo Cellino, has resigned from his position in accordance with with the recent decision of the PCC.
"In addition, a further misconduct charge against Mr. Cellino and the club for failing to supply the Italian Court judgment to The Football League when it first became available will be heard by a Football Disciplinary Commission in due course."
Cellino, who took over at Elland Road last April, will be allowed to resume his role after 10 April as his conviction will be deemed to be spent.
Meanwhile, the club are currently under a transfer embargo for breaching Financial Fair Play rules, and cannot pay any transfer fees for players in the current window.
BBC Radio Leeds also report that will stay as chief operating officer.