Cambridge Utd: We won't beat Man Utd and who cares? - Money
Last updated on .From the section FA Cup
Cambridge United manager Richard Money says he "doesn't care" if his side beat Manchester United in their FA Cup fourth-round replay at Old Trafford
Cambridge, who were almost relegated from the Conference in 2011, could earn up to a reported £1.7m from the replay on 3 February.
"I don't think we can win but you never know. We're going to Old Trafford. Who cares what happens?" said Money.
"Just go and enjoy it"
Cambridge, who were in administration in 2005 and have debts of around £1.2m, were promoted to League Two last season after nine years outside the Football League.
Money doesn't believe his side, ranked 76 places below Manchester United, can upset the odds against the three-time European champions but had a message for his players.
"'Just go and enjoy it, soak it in. Whatever happens, happens'," he said.
"This club has been in the doldrums for 10 years, out of the Football League, and suddenly here we are taking everybody back to Old Trafford. It's incredible,." he added.
Cambridge United v Manchester United

Cambridge United

Manchester United

Honours

Division Three (1991), Division Four (1977), Division Four play-off winners (1990), Conference play-off winners (2014), FA Trophy (2014), best football food in 1998.

Three European Cups, 20 English titles, 11 FA Cups, four League Cups, among others

Turnover 2013-14

£1.6m

£433m

Ground capacity

8,000

75,000

Wage bill

About £1m

About £200m

Most expensive season ticket

£450

£900
"The pitch was the same for both teams"
Manchester United manager Louis van Gaal blamed the state of Cambridge's pitch for his side's performance.
"Every aspect of the match is against us - the pitch, the referee," he said.
The Dutchman had particularly harsh words for the pitch at the Abbey Stadium adding that it was "not so good."
Money defended the facilities considering the club's tight financial restraints.
He said: "We don't have the money to spend on the pitch to make it as it is at Old Trafford or anywhere else.
"The groundsman did a fantastic job to keep it in the condition it was. Yes it broke up a little bit but it's the same for both teams."
"No shirt swapping"
Money warned his players before the match that they would have to pay £39.99 for a new shirt at the club shop if they swapped with their opponents.
He said the club were "not wealthy enough" for players to exchange shirts with Manchester United players.
Despite Money saying after the match that "not one player asked me [if they could swap]" it seems midfielder and captain Tom Champion found a way around the rules.
The 28-year-old tweeted a picture of himself holding up Michael Carrick's shirt, still wearing his own.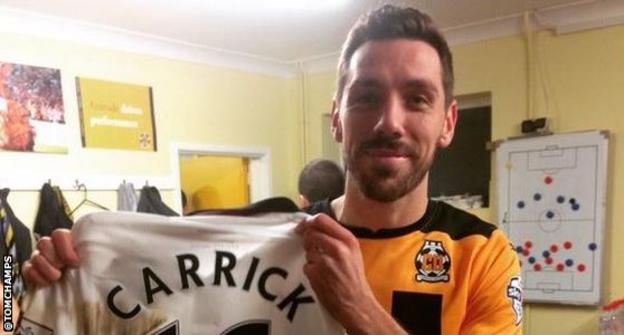 Old Trafford payday
Earning a replay with Manchester United, the world's second richest club, at Old Trafford could be worth up to £1.7m for Cambridge.
The Reds have a revenue of £433.2m in 2013/14. Cambridge, in contrast, have a turnover of £1.6m and have flirted with extinction in the last decade.
Money has admitted the financial difference the replay at Old Trafford would make is "mind blowing".
The club made almost £500,000 from this first game including £140,000 from television royalties.