Man City: Manuel Pellegrini denies Abu Dhabi trip is reason for defeat
Last updated on .From the section Football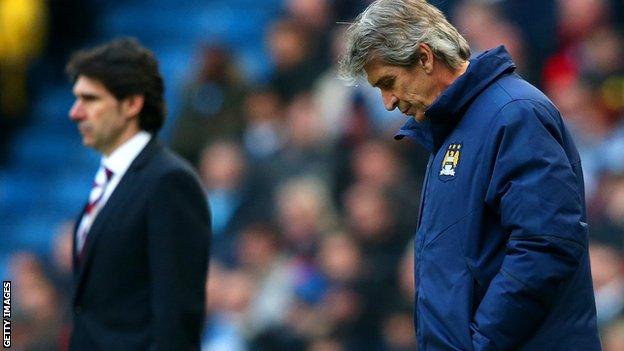 Manchester City manager Manuel Pellegrini has denied his side's week-long trip to Abu Dhabi led to the Blues' shock FA Cup exit.
City arrived back from their warm-weather training camp on Friday night, less than 24 hours before the fourth-round tie with Middlesbrough.
The Championship side won 2-0 at the Etihad and had chances to win by more.
"It is very easy to say it is about Abu Dhabi," said Pellegrini. "I don't think that is the reason."
While in the United Arab Emirates, City had also played a friendly against German club Hamburg.
But questioned about the wisdom of the trip, and asked if the travelling was a factor in the defeat to Boro, Pellegrini said: "I don't think so, I don't agree but you can have your opinion. I have a different opinion.
"We had six or seven clear chances to score at the beginning.
"I think there are a lot of football reasons rather than Abu Dhabi. They are different things."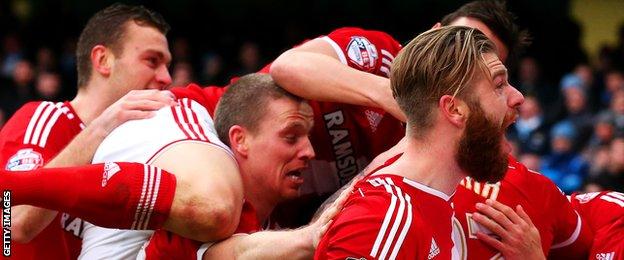 After online criticism from some fans, the Manchester Evening News is running a vote on whether the Premier League champions should have returned from Abu Dhabi earlier.
But former Manchester City manager Joe Royle backed Pellegrini and said the trip "would not have made a lot of difference".
Royle, in charge of the Blues from 1998-2001, told BBC Radio 5 Live's Sportsweek programme: "Players are hardly put away in steerage at the back, they go first class anywhere.
"A number of teams have gone away and won games when they returned. It's quite a regular thing, so there is not too much at all in this."
Pellegrini, who had the option to fly back to England on Thursday, praised Boro's performance, adding: "Before they scored we played very well. After that I think Middlesbrough deserved to continue in the Cup."
Pellegrini was named Premier League manager of the month in December but his side have lost their last two games.