Philippe Mexes: Milan defender sent off amid Serie A brawl
Last updated on .From the section European Football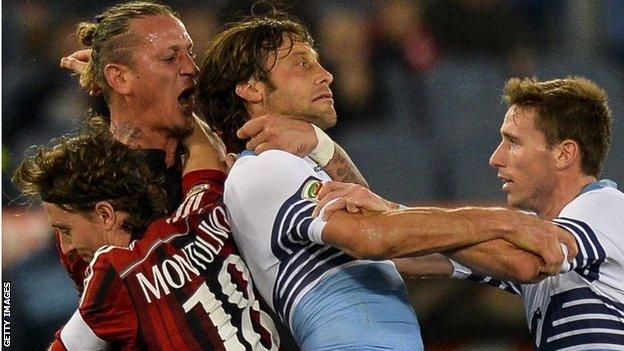 Has there been an angrier footballer anywhere in Europe this season?
AC Milan defender Philippe Mexes was sent off on Saturday during his team's 3-1 defeat at Lazio after grabbing Lazio captain Stefano Mauri by the throat.
The pair were separated but Frenchman Mexes went back for more, first trying to head-butt Mauri before grabbing him from behind.
"I have to apologise to the club, the coach and my family," Mexes said afterwards. "It was the wrong reaction and I am sorry because I left the team with 10 men and I will be suspended.
"Unfortunately I made a mistake. In my career I have had these reactions. These things should not happen out on a football pitch.
"I have children and this is not the sort of example that a father should set."
Mexes' dismissal came on the same day as Real Madrid forward Cristiano Ronaldo's red card for kicking and slapping Cordoba player Edimar.