FA Cup: Is this the most open competition ever?

By Phil McNulty
Chief football writer
Last updated on .From the section FA Cup565
After a weekend of FA Cup shocks and upsets the list of Premier League casualties lies at 10, leaving Monday's fifth-round draw wide open and those left with a 33% chance of avoiding a top-flight team.
There were 11 Premier League exits in 2005 and 2006 but this year all the clubs remaining will be dreaming of Wembley.
Chelsea, Manchester City and Southampton's departures meant the Premier League's top three were accounted for in the space of 90 minutes - the first time this has happened at this stage since 1997.
Managers from Cambridge to Liverpool and Bradford to north London will await their numbers when Gary Lineker makes the draw on the One Show, with the competition the most open it has been in years.
Who's still left in?
In the hat
Premier League:
Arsenal; Aston Villa; Crystal Palace; Leicester; Liverpool; Man Utd; Stoke; Sunderland; West Brom; West Ham
Championship:
Blackburn; Bolton; Derby; Fulham; Middlesbrough; Reading
League One:
Bradford City; Preston; Rochdale; Sheffield Utd
League Two:
Cambridge Utd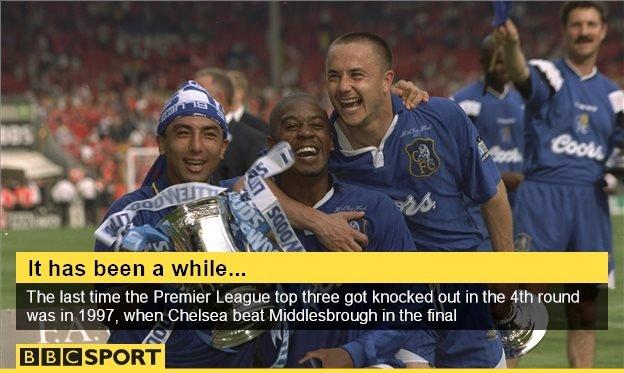 The weekend's big winners?
Manchester United's FA Cup weekend started in undistinguished style with a dismal draw at Cambridge United, 76 places below them in 12th spot in League Two, at The Abbey Stadium.
And yet, such is the capacity for drama and surprise in this competition that they ended it among the favourites - rivals dropping like flies before Louis van Gaal's team meet Cambridge once more in an Old Trafford replay.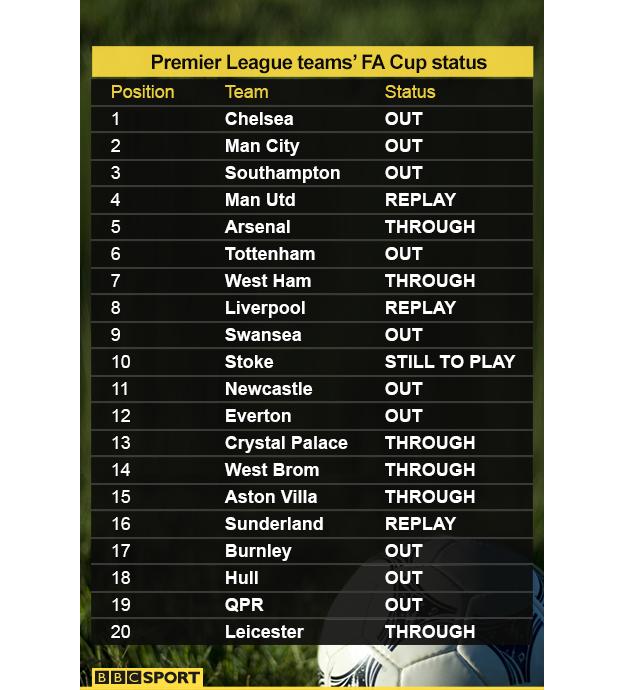 Van Gaal has admitted the FA Cup is his fastest route to trophy success in his first season at United and the road to Wembley has had a few major obstacles cleared from his path this weekend.
The atmosphere at Anfield took on an extra edge as news filtered through about the big-name casualties. Liverpool could not take full advantage as they were held to a draw by Neil Lennon's improving Championship side Bolton.
Manager Brendan Rodgers, however, will certainly feel his stated aim of a top-four finish and a trophy has markedly improved after this weekend's carnage.
FA Cup holders Arsenal made no mistake with a win at Brighton and manager Arsene Wenger will view the possibility of retaining the trophy won against Hull City at Wembley last May as an increasingly realistic prospect.
And dark horses? West Ham United fit the bill in every respect as they overcame the tough assignment against League One promotion-chasers Bristol City at a packed Ashton Gate.
Match of the Day 2 analyst Phil Neville
"Looking at the results and big teams going out, if I was West Ham I'd be going hell for leather to win this.
"Two games from a Wembley semi then you look to the final. If I was West Ham I'd be going for it."
There is no escaping the feeling that manager Sam Allardyce has set his sights on the FA Cup this season, fielding strong line-ups against Everton and Bristol City, all a far cry from the humiliating 5-0 loss to Nottingham Forest in the third round last season.
West Ham have a strong defence and a team capable of scoring goals - and those Hammers fans departing the West Country on Sunday night are getting that FA Cup fever once more.
Your FA Cup fate in Lineker's hands
BBC Sport's Gary Lineker is making the draw on Monday, along with presenter of "The One Show" Alex Jones.
The weekend's shocks will make the moment even more eagerly awaited given the selection of usual suspects, dark horses and rank outsiders who will be going into the pot.

Lineker, an FA Cup winner with Spurs in 1991, is already looking forward to his task as he tweeted: "A sparkling weekend of FA Cup football. The old lady is in good order, Looking forward to getting hold of the balls tomorrow."
And he entered into the spirit on his Twitter account as the shockwaves rolled in, saying" The FA Cup is alive and kicking" and "Just checked out the FA Cup scores, think I've misread them. Will check again."
His eyes had not deceived him - and no doubt Lineker will be getting credit and blame in equal measure after the fifth-round draw is completed.
Predicting the unpredictable
Picking FA Cup winners has been a mug's game in this fourth round - as proved by the attempts of BBC Sport's Mark Lawrenson and former Cambridge United and Manchester United striker Dion Dublin.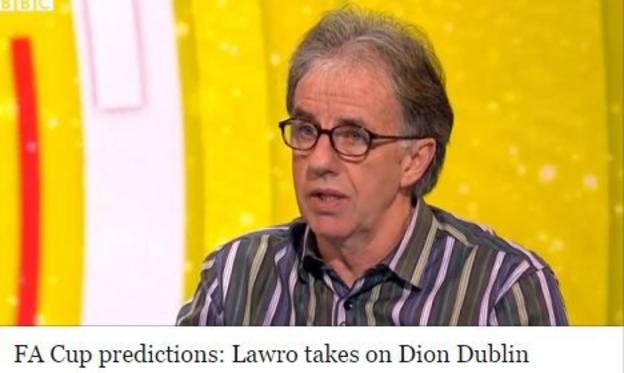 Out of 30 attempts the pair only struck gold once, as Lawrenson correctly predicted Derby County would beat local rivals Chesterfield 2-0. Not the greatest strike-rate but who would have seriously predicted the defeats suffered by Chelsea and Manchester City, along with plenty of others that defied logic?
Pride of place, however, must go to BBC Sport's John Motson - who not only predicted that Middlesbrough would beat Manchester City but also outlined the precise reasons behind his thinking.
He told Football Focus: "I'm really going to stick my neck out here because Manchester City have been in the Middle East. They didn't get back until 7pm on Friday and there's no Yaya Toure. Middlesbrough have got a bit about them and I am looking out for them to beat City."
Sooth-saying of the highest calibre - but a rare moment of accuracy on a weekend most of us who observe the game on a regular basis were left floundering.
Did the giants disrespect the Cup?
Manchester City have faced this accusation after returning from a five-day warm weather training break in Abu Dhabi less then 24 hours before kick-off against Middlesbrough.
Manager Manuel Pellegrini dismissed such criticisms with the claim that he fielded a strong team that wasted "six or seven clear chances to score" before Patrick Bamford gave the promotion-chasing Championship side the lead.
Pellegrini has a point - but there is no escaping the fact that Middlesbrough started to over-run City as the game went on, creating a host of opportunities as the tie progressed.
Changes made by Premier League sides (most at the top)

Chelsea

9

Tottenham

9

Arsenal

7

Aston Villa

6

Leicester

5

Liverpool

5

Swansea

5

Man City

4

Crystal Palace

3

Man Utd

3

Sunderland

3

West Brom

3

Southampton

1

West Ham

1
Tired legs? Again Pellegrini will rail against this but one tough question cannot be avoided and leaves City open to the claim they treated the competition lightly.
Would Pellegrini have countenanced a similar trip to Abu Dhabi - or at least such a late return - before next Saturday's seemingly title-defining meeting with Chelsea at Stamford Bridge? Everyone knows the answer to that. Not a chance.
No-one would blame City for putting the FA Cup behind the Premier League and Champions League on a list of priorities and no club of stature would deliberately dismiss it as a trophy-winning opportunity.
But as BBC Sport summariser Chris Waddle said: "If you don't treat the FA Cup with respect you get your fingers burned."
Chelsea's situation was slightly different. Mourinho was managing this fourth-round tie in between two Capital One Cup semi-finals with Liverpool, the situation that also applies to Spurs, knocked out by Leicester City in a game sandwiched between a last-four meeting with Sheffield United.
And for 41 minutes against Bradford City, it could not have gone better for Chelsea as they led 2-0, even with captain John Terry on the bench and Diego Costa rested.
Mourinho is renowned for taking every competition seriously - and this was a line-up that should have had enough quality to beat a team 49 places below them.
So maybe it was Chelsea's players who should be accused of taking the game lightly once Jon Stead brought Bradford back into the game.
Chelsea's manager spotted the danger signs and introduced Cesc Fabregas, Eden Hazard and Willian in the last 20 minutes - but momentum had swung decisively to Bradford and the damage was done.
Mourinho made nine changes, as did Spurs boss Mauricio Pochettino, and both lost - an indicator that a policy of "all change", no matter how good the replacements, is tempting the FA Cup fates one step too far.
Was this the weekend the FA Cup was reborn?
It has been a recurring theme in recent years that the FA Cup has lost both its magic and the lustre that made it the world's undisputed best knockout competition.
Falling attendances and weakened teams added weight to the argument of those making that case, but the naysayers have been silenced by the sheer brilliance and drama the FA Cup has produced since Friday.
Ask those Cambridge fans who roared in the rain at The Abbey Stadium on Friday. Ask the Middlesbrough fans who witnessed that win at Manchester City. Ask Bradford's supporters and players who celebrated together at Stamford Bridge.
And ask Andy Halliday, who scored Bradford's third goal and told BBC Radio 5 live's Jonathan Overend: "It is the best day of my life. That was just ridiculous."
This was the weekend the FA Cup answered back to its detractors - spectacularly.