Fifa: Sepp Blatter calls for Uefa to show 'courage' and challenge him
Last updated on .From the section European Football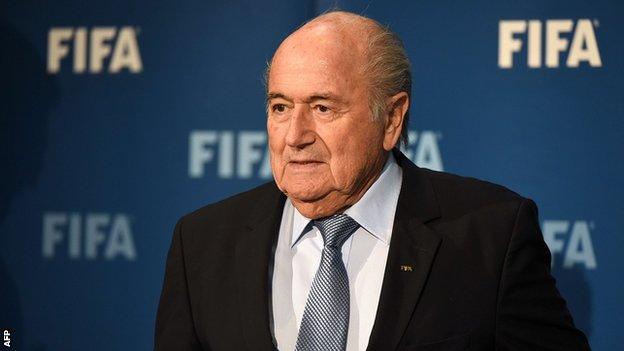 Fifa president Sepp Blatter has accused Uefa of lacking the "courage" to challenge his leadership.
The 78-year-old is bidding for a fifth term as head of football's world governing body and has urged Uefa to put someone up against him or be "respectful" of his wish to continue.
Three candidates - Jerome Champagne, Prince Ali and David Ginola - have said they will stand against him in May.
"All those who want to get rid of me should come," Blatter said.
Michel Platini, president of European governing body Uefa, has called for his Fifa counterpart Blatter to be replaced but will not stand himself.
Blatter, who has been in charge of Fifa since 1998, told CNN World Sport: "All this opposition is coming now, it's unfortunate to say - but it's true - it's coming from Uefa.
"They don't have the courage to come in. So let me go [on] - be respectful."