Safety dilemma as Equatorial Guinea advance
Last updated on .From the section Football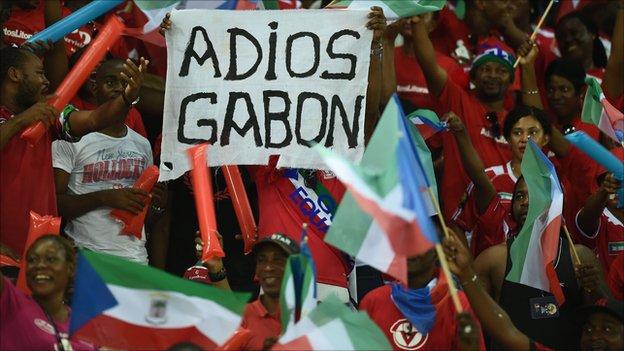 Equatorial Guinea's advance to the quarter-finals of the Africa Cup of Nations has created a potential safety dilemma for local organisers.
The hosts shocked neighbours Gabon 2-0 on Sunday to finish second in Group A.
The team will now play a quarter-final match against Tunisia in Ebibeyin on Saturday.
But there are concerns that the recently-built 5,000-capacity stadium is too small for the huge crowd expected for the match.
The tournament has already seen spectators breaking through fences at the opening game in Bata on 17 January with the 35,000-capacity stadium there overflowing.
At other venues, segregated areas for VIPs and media have also been overrun at times by supporters, with police battling to gain control of the situation.
In Ebibeyin, organisers are using recruits from a nearby police college to provide security with assistance from police from Angola - a force of 350 has come from Luanda to help Equatorial Guinea.
Moving the quarter-final to a bigger venue would be unprecedented but is likely to be discussed by the Confederation of African Football and the organisers.
Authorities could now be looking to play the match at Bata Satdium, the largest venue in the country and where Equatorial Guinea have played their three group games in front of packed crowds.
Bata will host the final on 8 February.