Afcon 2015: Venues changed for quarter-finals
Last updated on .From the section Football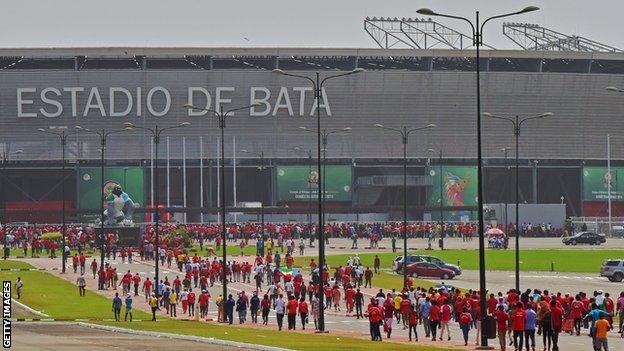 Equatorial Guinea's Africa Cup of Nations quarter-final against Tunisia has been moved from Ebebiyin to Bata, to be played on Saturday at 16:00 GMT.
And Sunday's quarter-final between the Group C winners and Group D runners-up has moved from Mongomo to Malabo.
That match will kick off at 16:00, which means the remaining quarter-final, also taking place in Malabo, has been pushed back to start at 19:30.
Deteriorating pitches in Ebebiyin and Mongomo prompted the switch.
The Confederation of African Football said in a statement: "The two pitches (in Ebebiyin and Monogo) have been adversely affected by combination of wear and tear from the six games played or to be played in each of them and the unstable weather conditions seen lately.
"The eight teams qualified for the quarter-final stages onwards should be given the opportunity to play on grounds that provide the highest standards, specifically those of Bata and Malabo, to ensure the quality of play remains at the highest possible level."
On Monday it was reported that there were safety concerns over the use of the recently-built 5,000-capacity stadium in Ebebiyin to host the last-eight tie between Equatorial Guinea and Tunisia.
There have already been instances of overcrowding at matches earlier in the tournament and police being overrun by supporters.
Moving the match to Bata Stadium, which will also host the final on 8 February, means an extra 30,000 fans will be able to attend.
It is the first time in the history of the Nations Cup that quarter-finals matches have been relocated, but the logistics of holding the tournament in Equatorial Guinea at short notice have presented unique problems.
The country only stepped in to host the tournament in November, replacing Morocco whose plea to postpone the event because of their fears over the spread of Ebola was rejected by Caf.
That has led to issues around accommodation, facilities and organisation.