Birmingham City: Clubs 'all want a game changer' like Demarai Gray
Last updated on .From the section Football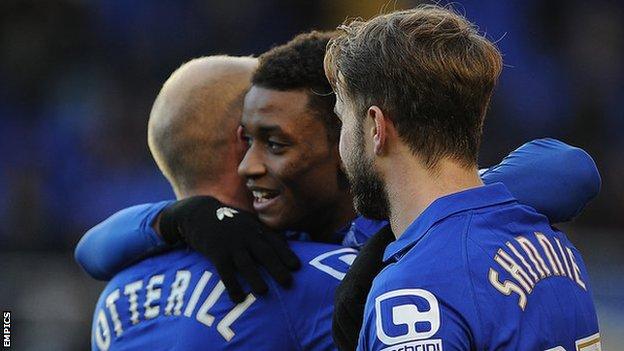 Birmingham City boss Gary Rowett is not surprised by the explosion of interest in exciting winger Demarai Gray.
"There's lots of interest from lots of clubs. Everyone's after the same type of player," Rowett told BBC WM 95.6.
"It's players like Demarai who clubs are after. Everyone's looking for someone who's a game changer."
Gray, 18, was left out of City's starting line-up in their FA Cup tie against West Brom, but almost turned the game after coming on as a sub.
Rowett brought him off the bench when Blues were trailing their Premier League neighbours West Bromwich Albion 2-1 in the fourth round derby at St Andrew's - and Gray's pace and trickery again underlined his value to the club, and prospective suitors, although the scoreline remained unchanged.
Demarai Gray's career details
Demarai Gray was 18 years, five months and 15 days old when he scored three goals inside 35 first-half minutes against Reading in December. It made him the third-youngest Blues player, after Trevor Francis (1971) and Robin Stubbs (1959), to hit a hat-trick.
Gray was raised in the Rubery area south of Birmingham and was spotted by Blues playing for Cadbury Athletic at the age of eight. He is one of 12 academy players to break into the first team over a three-year period.
He made his debut as a late substitute in a 4-0 home win over Millwall in September 2013, and signed his first professional contract three months later before playing his England Under-19 game in September 2014.
"He nearly got us back in the game and might have won it for us," said Rowett. "Demarai showed that he can change a game with his impact."
He was also keen to counter press speculation, after three separate bids from Championship high-fliers Bournemouth, that the player himself is affected by all the transfer talk and keen to move on.
"If that looked like a player who is disaffected and worried by the speculation, I can't wait to see him when he's settled," Rowett continued.
"It was just game management. Not for one moment did I think it's been affecting him, I just felt that it has been a huge month for him and that there's been a lot of speculation, and I just wondered if it might just be a little bit too much for an 18-year-old to be the stand-out player in a local derby against a very good full-back.
"I thought it might just be too big a gamble and that it might be more effective to bring in Lloyd Dyer and let him blow himself out."
He added: "I've had a lot of conversations with Demarai. Not once has he said he wants to leave the club.
"It's the unfortunate side of football that, at this time of the window, one or two people are out to cause a bit of trouble, but I'm not too worried about that. It's water off a duck's back."