Fifa: Prince Ali of Jordan to get FA nomination for presidency

By Richard Conway
BBC Radio 5 live sports news correspondent
Last updated on .From the section Football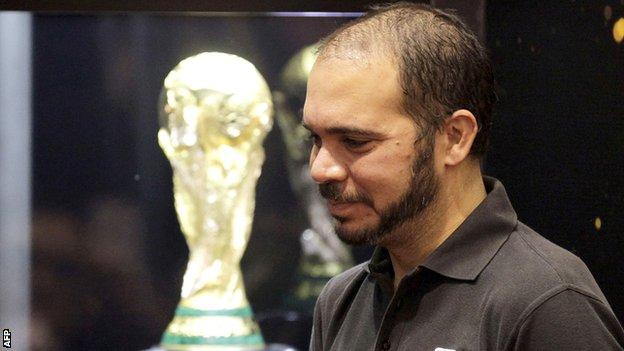 The Football Association is set to give Prince Ali of Jordan one of the five nominations he needs to stand as a candidate for the Fifa presidency.
A proposal to back Prince Ali will be put to the FA board on Thursday.
But sources say the decision does not necessarily mean the FA will vote for the 39-year-old in May's poll.
Dutch FA president Michael van Praag, French diplomat Jerome Champagne, and former France midfielder David Ginola are also hoping to oust Sepp Blatter.
The 78-year-old Swiss has been Fifa president since 1998 and is seeking a fifth term in office.
He has been criticised for Fifa's handling of Michael Garcia's report into corruption during the bidding process for the 2018 and 2022 World Cups.
Candidates will be assessed by Fifa's electoral committee after Thursday's deadline and must pass an anti-corruption test before they can be confirmed.
The FA's decision to back Prince Ali's candidacy is believed to have been made in the interests of promoting a healthy debate around Fifa's future.
Meanwhile, the decision to award the 2022 World Cup to Qatar has been called "radically flawed" by corruption in a report by Council of Europe parliamentarians.
The Parliamentary Assembly of the Council of Europe (Pace) says Fifa should now re-run the vote - although it has no power over football's world governing body.
The report will be debated at the assembly's April session, to which Blatter will be invited.
The Fifa president has previously said it would "need an earthquake" to go back on the decision.