Chris Moyses: Lincoln City boss gives 11-second interview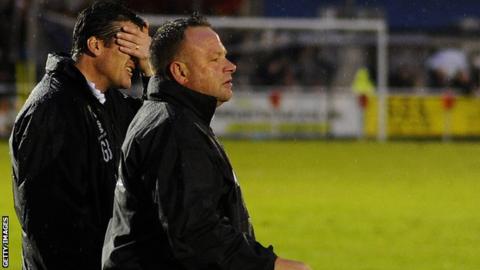 Lincoln City manager Chris Moyses gave an 11-second interview to apologise for his side's performance after the 4-0 thrashing against Chester on Tuesday.
Moyses was furious after another poor display, which followed Saturday's 3-0 loss at Macclesfield, and interrupted startled BBC Radio Lincolnshire reporter Rob Underwood.
"I will give you a statement," said Moyses, who was appointed in December.
"I will apologise straight away. That is unacceptable in my eyes."
The Imps have won their last six home league matches under Moyses, but have lost their three last away from home, conceding 11 goals in the process.
"It is my fault," said Moyses continued. "I will carry the can for it and that's the end of the statement. That is all I am going to say."
The Imps were 13th in the Conference table when Moyses and Grant Brown took over from previous manager Gary Simpson in November, eight points adrift of the play-off places and seven points above the relegation zone
Their home form since then has helped them move up to 11th place, only four points outside the top five and 18 points clear of the bottom four.