Vincent Pericard: Ex-Stoke striker returns in Wessex League
Last updated on .From the section Football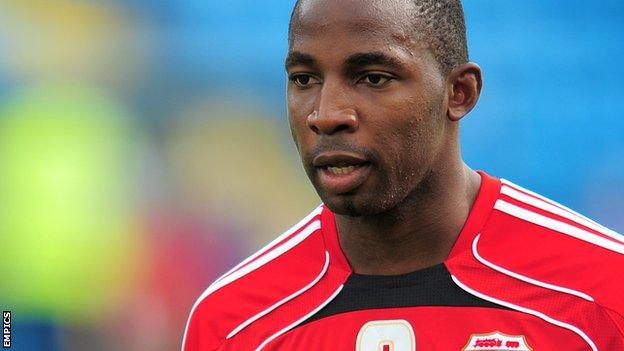 Former Juventus, Portsmouth and Stoke striker Vincent Pericard has come out of retirement to play for Moneyfields FC in the Wessex Premier League.
The 32-year-old made his comeback on Tuesday as he helped his new team-mates to a 1-0 win over Folland Sports FC, taking them to the top of the table.
Pericard retired in 2012 after a spell with Havant & Waterlooville.
"I'm very stiff and sore. Unfortunately I've hurt my hamstring but otherwise I feel great," he told BBC Sport.
"I won't be able to play again on Saturday but hopefully I'll get myself fit and play again for them. I fully enjoyed myself and I hope that's not the end of it.
"My main reason for doing it was just to get out there and have fun, run around and help the team. The most important thing was to help the team to win."
Pericard made a single appearance for Italian club Juventus in March 2002 after arriving from Saint-Etienne, playing alongside Edgar Davids and Antonio Conte in a Champions League match against an Arsenal side containing Thierry Henry, Patrick Vieira and Robert Pires.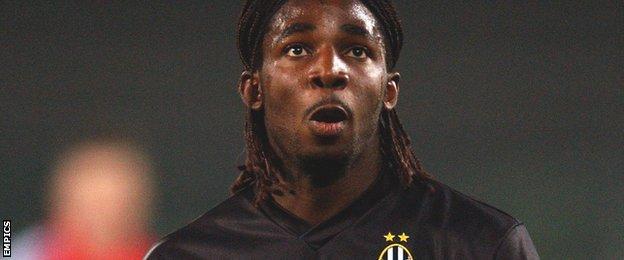 He also played in the Premier League with Portsmouth and Stoke, as well as having spells in the Football League with Plymouth, Southampton, Sheffield United, Millwall, Carlisle and Swindon, but his last competitive game was three years ago.
"When I was talking to them I made it clear that I hadn't played any football or done much exercise for three years, so they shouldn't expect any miracles," he added.
"Obviously playing football when you haven't done anything is very, very hard but I was pleased with my contribution. My instructions were clear - hold the ball up and be strong up front."
The former France Under-21 international, playing in the ninth tier of English football for the first time, impressed Moneyfields assistant boss Graeme Gee with his application.
"Vincent played up front on his own, which is a hard job, but he held the ball up well and did what we asked of him," said Gee, who explained that the deal had come about thanks to a family connection with the club's midfielder Conor Bailey.
"Our top scorer has got himself suspended for three matches and we needed to replace him in the short-term," he said.
"At the level we play at, it's difficult. We can't get in guys from, say, Havant & Waterlooville because they're all on a contract and our budget is basically zero."
Pericard runs his own company which specialises in looking after players off the pitch, helping them to adjust to joining new clubs.
In addition, he is involved with anti-discrimination organisation Kick It Out, as well as studying Business Studies at Portsmouth University.
"To be honest, we were expecting a 'thanks but no thanks' but he came along to training and asked us a few questions about [what] we were after, explained that he's a busy man but said he'd try to help us out," added Gee.
"We've never had a footballer with a CV like his at the club and we've only got good words to say about Vincent.
"There's no money changing hands and this is absolutely not a publicity stunt. His know-how and professionalism will be great for the lads and we just hope he can do a job for us."
Despite Pericard coming off with the injury, Gee is optimistic he will appear for Moneyfields again.
"It's just going to be on a game-by-game basis and it's purely because we want to keep pace at the top of the league and get promoted this season," Gee said.
"We're just a typical non-league club really. There's no budget of any description. We pitch in and cut the grass, paint the fences and whatever."