Darren Bent: Ryan Shotton says striker is ideal for Derby
Last updated on .From the section Derby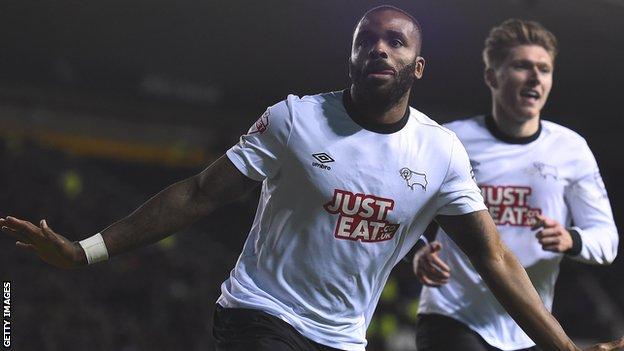 Darren Bent's goalscoring instincts are just what was required to help Derby County's Championship promotion bid, according to team-mate Ryan Shotton.
"He is exactly what we've needed," defender Shotton told BBC Radio Derby. "He brings a different dimension.
"He has three in two games now and could have had six goals already."
Bent, who is on loan from Aston Villa, also netted in the FA Cup fourth-round win over Chesterfield on Saturday.
And his double against Rovers means he has scored a goal in just over every 45 minutes he has been on the pitch for the Rams so far.
They have heavily relied on Chris Martin, who has scored 18 goals in 37 games for Derby this season.
"Chris is great up front but he needs a little back-up to take all the weight of his shoulders," added Shotton.
"There are lads in the team who are doing great, but Benty can come in and do things like that.
"He's been doing great and has been great in training."
Manager Steve McClaren was also impressed with the contribution of the former England striker, who has joined until the end of the season.
"He was "Johnny-on-the-spot" and that's why he's come on," said McClaren.
"I used to play and when I ran in to the box the ball never fell at my feet.
"These guys seem to run in to the box and it falls at their feet and they score. It's a knack and it's a good one."