Savage: Chelsea to beat Man City & prove they are champions elect
Last updated on .From the section Football

In his regular BBC Sport column, Robbie Savage explains why, although Chelsea have weaknesses, they will still be too strong for Manchester City in Saturday's game between the Premier League's top two teams.
I have said since before the season started that Chelsea are the best team in the Premier League and I expect them to prove it on Saturday.
Jose Mourinho's side will be without their top scorer Diego Costa when they take on their nearest rivals Manchester City at Stamford Bridge.
But, even though Costa misses the game through suspension, I still expect Chelsea to win and extend their lead to eight points at the top of the table.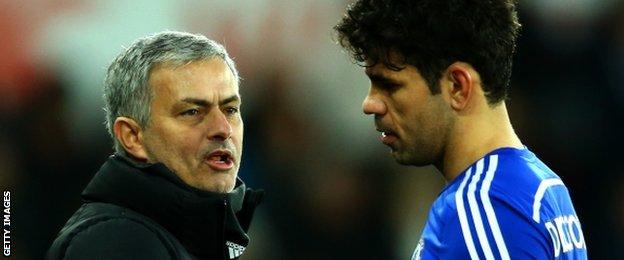 As we saw in their heavy defeats by Tottenham and Bradford, Chelsea are far from invincible, and they do have weaknesses.
The question is whether City are in a position to exploit them, in a game I think they have to win.
Reds show a way through the Blues
Chelsea's attack has improved significantly since last season - scoring more goals from fewer shots - but their defence is still their greatest strength.
Only Southampton have conceded fewer Premier League goals than them this season, and the Blues have the best record in the top flight in terms of fewest shots on target faced (60 in 22 games) and most clean sheets (11).
Chelsea in the Premier League (and rank)

Data: Opta

2013-14

2014-15

Goals per game

1.86 (3)

2.3 (1)

Goals conceded per game

0.71 (1)

0.86 (2)

Shots on target per game

6 (3)

6.2 (1)

Shots on target faced per game

2.3 (1)

3.2 (1)
The way Chelsea protect their centre-halves is a big reason they are so good at the back, but there is a way through that shield.
Cesc Fabregas is a wonderfully creative player who I would pick on Saturday if he is fit, and always play ahead of John Mikel Obi or Ramires because of what he offers going forward. He has more assists and has created more chances than anyone else in the Premier League this season.
But, when Fabregas partners Nemanja Matic in front of the defence in Chelsea's usual 4-2-3-1 formation, it gives them a slight issue defensively.
Liverpool's Philippe Coutinho demonstrated that weakness brilliantly on Tuesday night in the second leg of their Capital One Cup semi-final against the Blues.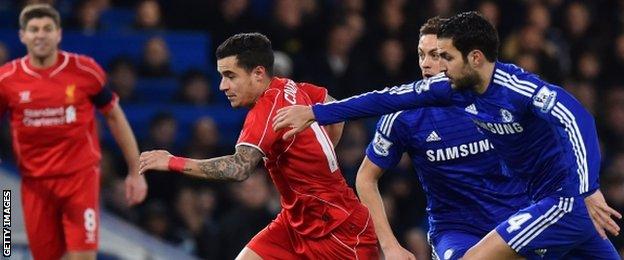 Coutinho constantly found the space that Fabregas left behind when he went forward.
As good as Matic is, he could not get across to cover in time, so Coutinho was able to drive at the heart of the Chelsea defence.
City's problem is making the most of that situation in the same way.
Sergio Aguero loves buzzing around in that area between defence and midfield but he has been short of his best form since returning from injury.
Aguero is yet to score or provide an assist in the 203 minutes he has played since recovering from the knee injury he sustained against Everton in December. In the same period before he was sidelined, he scored four goals and made two more.
On top of that, Samir Nasri is injured and Yaya Toure is still away at the Africa Cup of Nations with Ivory Coast.
With those two absent, City rely heavily on David Silva to open teams up.
You would expect Matic to be asked to take care of him on Saturday and, as we saw against Arsenal a fortnight ago, if you stop Silva then you pretty much stop City at the moment.
Late goals and Lampard offer City hope
Frank Lampard is a Chelsea legend but he has scored some vital goals for City this season, including the equaliser when the teams drew 1-1 earlier this season.
He is normally used off the bench by Manuel Pellegrini - 14 of his 17 league appearances this season have been as a substitute - but there is a case for him starting on his return to Stamford Bridge.
City need an attacking alternative to Silva and Lampard could be City's version of Coutinho, making runs off the back of Fabregas. Lampard is so clever with the way he does it that he is very hard to pick up.
Lampard might not last the 90 minutes but would definitely give Chelsea more to think about than Fernando and Fernandinho, who are not going to run in behind the Chelsea defence like he does.
Even if he starts on the bench, Lampard could still play a key role if the game is still in the balance late on.
This season, Chelsea have conceded a higher proportion of their goals - seven out of 19 - in the last 15 minutes of games than any other Premier League team.
And they have been guilty of dropping deep after taking the lead in big games, something they cannot afford to do again against City.
They had 55% of possession in the 10 minutes before Andre Schurrle put them ahead at Etihad Stadium in September, but that dropped to 26% in the 10 minutes afterwards, despite City being down to 10 men.
It was a similar story when Chelsea drew 1-1 with Manchester United at Old Trafford in October. Chelsea had 64% of possession in the 10 minutes before Didier Drogba put them ahead, but only 45% in the 10 minutes after.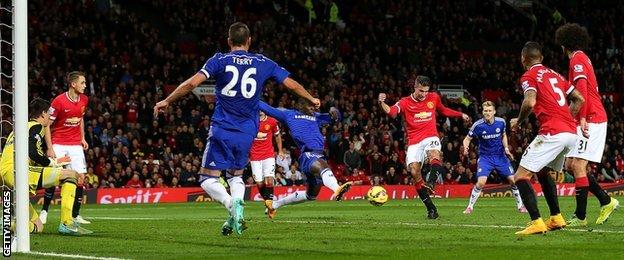 On both occasions, they let the opposition back in the game and, ultimately, dropped points.
If they take the lead against City on Saturday, Chelsea need to stay on the front foot, and not sit back this time. When they do that, they can be their own worst enemy.
City have bigger issues at the back
These are the two best teams in the Premier League and they both have some fantastic individual players.
In a combined XI, when everybody is fit and available, I would have five outfield players from each club in the 4-2-3-1 formation that both managers favour.
Savage's combined Chelsea and Man City XI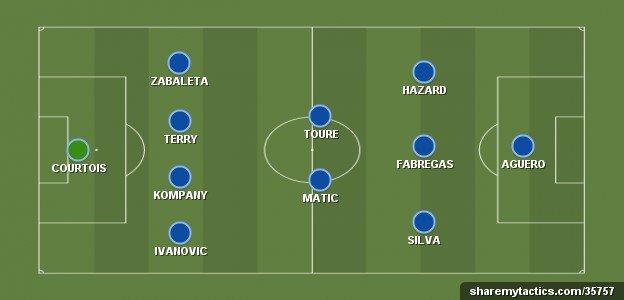 Chelsea have the best team, though, which is why I am backing them on Saturday.
To hurt Chelsea, City will need to play at a much higher tempo than they did against Arsenal, when their passing was much too slow.
City have had more possession and played more passes more accurately than any other Premier League team, but that will not bother a team like Chelsea who are solid and can be so devastating on the break.
Man City in the Premier League (and rank)

Data: Opta

2013-14

2014-15

Passes per game

546.5 (1)

595.2 (1)

Passing accuracy

86% (1)

85.2% (1)

Possession

57.9% (1)

60.1% (1)
Besides, Pellegrini's side have more to worry about at the other end of the pitch.
They have not conceded many goals but, defensively, City have been all over the place in recent weeks, whoever has been playing at the back.
They have been opened up far too easily and have had too much, what I would call, lazy defending - players not covering runs or following opponents when they play one-twos.
It is not a game Chelsea need to win, because they are already five points clear, but I think Mourinho will want to make a statement by beating City.
For me, the result is more important for Pellegrini because his predecessor Roberto Mancini was sacked after a trophyless season in 2012-13.
City are already out of both domestic cups and if they lose this weekend, as I expect them to, then the title race is effectively over.
That would mean Pellegrini might have to win the Champions League to keep his job, leaving him under massive pressure going into City's last-16 tie with Barcelona.
Robbie Savage was speaking to BBC Sport's Chris Bevan