Afcon 2015: Mali and Guinea managers criticise drawing of lots
Last updated on .From the section Football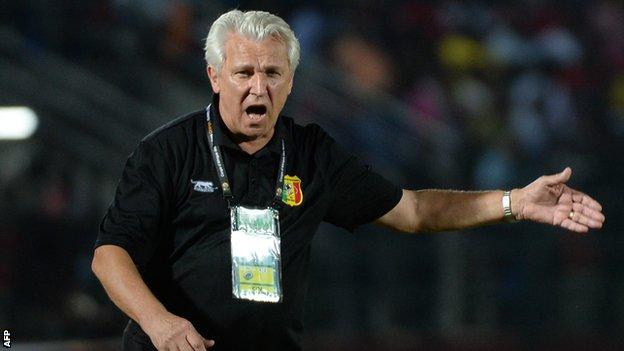 The Mali and Guinea managers insist the drawing of lots should not be how their Africa Cup of Nations fate is decided.
A draw on Thursday afternoon will decide which side reaches the quarter-finals after they finished joint second with identical records in Group D.
"We have to solve the problems of qualification without a drawing of lots," said Mali boss Henri Kasperczak.
Guinea coach Michel Dussuyer added: "Mali do not deserve to be eliminated in this way, just as we do not."
How Group D finished

Team

P

W

D

L

F

A

Pts

Ivory Coast

3

1

2

0

3

2

5

Mali

3

0

3

0

3

3

3

Guinea

3

0

3

0

3

3

3

Cameroon

3

0

2

1

2

3

2
Guinea winger Ibrahima Traore echoed his manager's thoughts after the two sides drew 1-1 in their final group match and said it would be "really difficult to sleep" on Wednesday night.
"It's not fair for both teams," he said, suggesting the outcome could have been settled by penalty kicks or extra time.
"The team who deserve to win would do it on the pitch," he added.

Mali's Kasperczak said: "We must find a more sporting way, fairer. This does not correspond to a sporting spirit."
Lots were originally due to be drawn after the match but it was announced during the first half that the draw had been moved to Thursday.
It will now take place at a hotel in Malabo at 15:00 GMT, with the successful team playing their quarter-final against Ghana on Sunday.
Lots have been drawn before
In a 1954 World Cup qualifying match in Rome, Turkey and Spain were tied after 90 minutes. At that point, a 14-year-old boy, the son of a stadium employee, was summoned to draw lots from a trophy, sending Turkey to compete at the tournament in Switzerland while Spain were sent home. Some reports suggest balls were drawn, others say it was a slip of paper.
In the 1988 Africa Cup of Nations, Algeria profited at the expense of Ivory Coast after the drawing of lots.
At the 1990 World Cup in Italy, the Netherlands and Ireland were tied for second place in their group. Straight after the match, Sepp Blatter, then second-in-command at Fifa, conducted a drawing of lots ceremony live on TV in Rome. Both teams were guaranteed qualification for round two but an attendant drew a ball from two bowls to determine their ranking.