Afcon 2015: Herve Renard says Cup starts for Ivory Coast now
Last updated on .From the section Football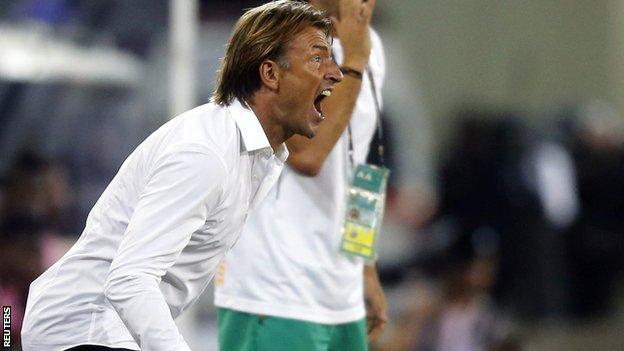 Ivory Coast coach Herve Renard says the African Cup of Nations can now truly start for his side after they beat Cameroon 1-0 to finish top of Group D.
The Elephants now face Algeria in the quarter-finals on Sunday evening.
"If you don't get through with a team like Cameroon or the Ivory Coast or Senegal, you get the finger pointed at you," said Renard.
"For a team like this the Africa Cup of Nations begins in the quarter-finals, because to go out before is a failure."
He added: "I think we showed everything you need to win a competition.
"All the teams in the last eight will want to get to the final - we are only three steps from the title.
"We do this job to win. We won't be happy if we lose in the semi-finals or even in the final, because if that happens it will always come into your mind for the rest of your life.
"I said before this game that it's not necessary in a Cup of Nations to start too quickly because it's a very difficult competition and with players like this they are ready to compete. They love games like this.
"When you play Cameroon you don't have to try to find motivation especially when we lost 4-1 to them in September [in qualifying]."

Ivory Coast will be looking to avenge a 2010 quarter-final defeat against Algeria when the teams meet again on Sunday, while Renard has a personal connection, having managed club side USM Alger in 2011.
"I had 10 great months in Algeria with them. Their fans will of course not be behind the Ivory Coast but I say hello to them and their president and now I'll try to make them cry,"
Cameroon coach Volker Finke said there was little more that his players could have done to prevent their exit from the tournament following the defeat.
"I think really the Ivory Coast took advantage of a little mistake we made in the first half to score the goal," he said.
"We tried really hard. Everyone gave their best, so that's why we can't say the team didn't try to the end.
"In the second half everyone gave a lot but there weren't many clear chances. In the first half we had two or three really good chances but didn't score and that is the reason we lost."