Sheffield Wednesday: Thai group buys Championship club
Last updated on .From the section Football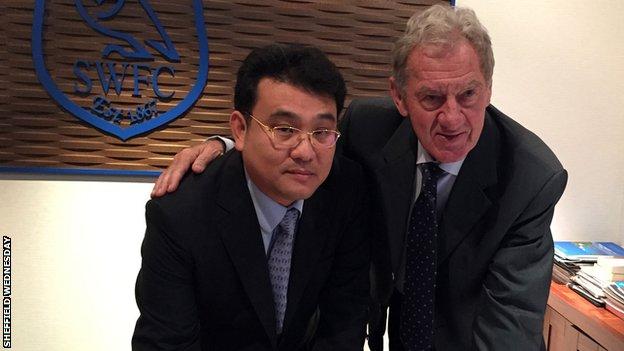 Sheffield Wednesday have been taken over by a Thai consortium led by businessman Dejphon Chansiri.
Chansiri, whose family owns Thai Union Frozen Group, has acquired a 100% stake in the Championship club.
Owls chairman Milan Mandaric, who had been in charge since December 2010, confirmed earlier this month the club were in talks with potential investors.
"I am very excited at the prospect of taking over control from Milan," Chansiri told the club website.
"I believe this club has huge potential and I can assure all our supporters that I will be working extremely hard to bring the success that I already sense from my short time in your city our supporters so desperately crave.
"My son Att, who was a mascot at the recent Blackpool game, is passionate about football and I know will be my inspiration in this project.
"I have made the same promise to him as I do our supporters, he will not let me forget this until we are back in the Premier League."
Sheffield Wednesday takeover timeline
14 December 2010:
Milan Mandaric completes takeover of Sheffield Wednesday
9 June 2013:
Mandaric announces Wednesday are losing £5m a year and that he is looking for a buyer to invest in the team
25 October 2013:
Mandaric reveals no offer for Wednesday has been made despite reported interest from businessman Sammy Yu
3 June 2014:
Azerbaijani businessman Hafiz Mammadov is reportedly close to completing a takeover deal for Wednesday
10 June 2014:
Wednesday announce Mammadov completes his takeover of the club
4 September 2014:
Mandaric reveals the proposed takeover by Mammadov has broken down
29 January 2015:
Thai consortium, led by businessman Dejphon Chansiri, completes takeover of club, subject to Football League ratification
The deal remains subject to ratification by the Football League.
The takeover brings an end to Mandaric's four-year stint as owner of the club, and although he is set to step down as chairman and as a director, he will remain at Hillsborough in an advisory role.
Mandaric agreed a deal to sell the Owls to Azerbaijani businessman Hafiz Mammadov last summer, but after that deal fell through in September, he said Chansiri had stood out as a potential buyer.
"I'm very happy and proud of what I have done for Sheffield Wednesday," Mandaric told BBC Radio Sheffield.
"I promised that when I left I would have secured their financial future and I can look the fans in the eye and say that I have done that.
"They have a big desire to go to the Premier League and they want to put money into the club. They're not here to stay in the Championship.
"I didn't sell the club for the money or because I have to leave, I sold it because these people are more aggressive financially and they will do the job."
Former Portsmouth and Leicester City owner Mandaric took over in December 2010 and helped the Owls secure promotion back to the Championship in May 2012.
He revealed in June 2013 that the club were losing around £5m a year and were looking for new investment.
A deal was agreed last June for Mammadov to take over the club, only for Mandaric to confirm it was off three months later.
Wednesday are currently ninth in the second tier, nine points off the play-off places.
You can hear more about Sheffield Wednesday's takeover in a specially extended Football Heaven on BBC Radio Sheffield from 18:00-20:00 GMT.