Danny Ings: Burnley boss Sean Dyche repeats striker will not leave
Last updated on .From the section Burnley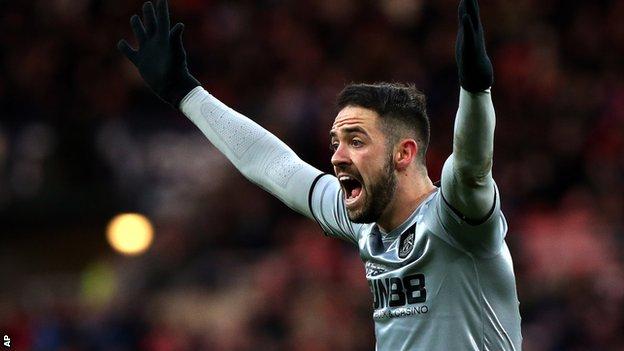 Burnley striker Danny Ings has been affected by speculation over his future but will not be leaving the club this month, says Clarets manager Sean Dyche.
"I took him off because I thought it had affected him," Dyche said.
"He was a bit off today but next week he'll be back with his team-mates and he'll be full of beans again."
Ings, who is in the final six months of his contract at Turf Moor, has also attracted interest from Tottenham and Real Sociedad.
Dyche described the situation as "difficult" but said Ings "knows he's staying here now".
"Speculation builds and people leak stories to the press," he added. "I must give Danny credit, he's dealt with it.
"He's a young man and a lot's happened in the last 48 hours. I was almost borderline not going to play him, but because I value him and the team does, then we wanted to play him."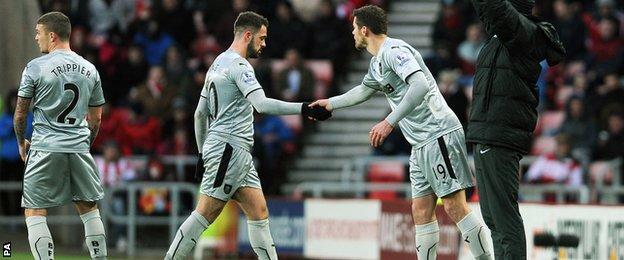 It had been suggested that any possible deal with Liverpool for Ings would involve the player being loaned back to Turf Moor for the rest of the season.
But in a statement on Friday, Burnley chief executive Lee Hoos said: "This type of move would violate Premier League rule V7 regarding transfers so simply cannot happen.
"Over the course of the window, the player himself, Sean Dyche and the chairman have made it clear he won't be going anywhere and we consider that the end of the matter."
Any club wanting to sign Ings in the summer would have to pay a fee, as he is under 24.
The forward, capped at England Under-21 level, moved to Turf Moor from Bournemouth in August 2011 for a fee of about £1m.