Gus Poyet: Sunderland boss seeks turning point against Burnley
Last updated on .From the section Football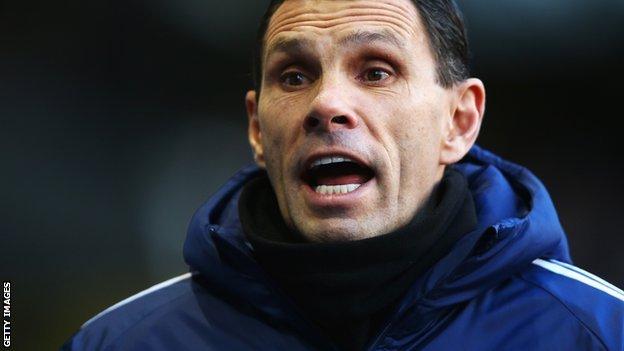 Sunderland's Premier League match against relegation rivals Burnley on Saturday must be a "turning point", says manager Gus Poyet.
Poyet accused the club's fans of "living in the past" for booing his team off after last weekend's 0-0 draw against Fulham in the FA Cup.
But he also acknowledged the team, with one win in 12 league games, had lost their connection with the fans.
"We're really looking forward, as it has to be a turning point," Poyet said.
"We need to put everything we've been doing in training into a winning performance, and go on from there.
"I think the group are ready. They would like to play now if they could."
Poyet's side have collected one point from their last five matches and, like Burnley, are one point above the relegation zone.
The Uruguayan said after the draw against Fulham he would not go back to what he called a "kick and rush" style of play employed under former manager Peter Reid, who led the club to successive seventh-place finishes in 2000 and 2001.
Poyet insisted he had not been fazed by criticism from fans, saying: "We need to make sure we are together.
"I'm not going to tell the fans not to boo. The main thing is that during the game, we need to be together. I know it helps.
"I know the character of the team and of the individuals, and that's something I know we need."