Manchester City's Scott Sinclair joins Aston Villa on loan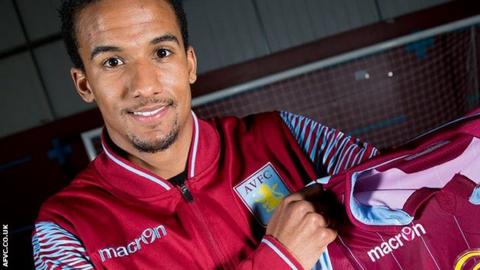 Aston Villa have signed Manchester City winger Scott Sinclair on loan until the end of the season - with a view to a permanent transfer.
The former Chelsea and Swansea City player, 25, has struggled to break into Manuel Pellegrini's side.
"I believe I have my best years ahead of me," Sinclair said.
Villa manager Paul Lambert said: "He got a great move to Manchester City, where it didn't work out as well as he probably would have wanted."
Lambert said it showed the club is moving in the right direction following the signing of Carles Gil earlier in the window and midfielder Fabian Delph signing a new four-and-a-half year deal.
"This club is moving in a really good direction at the minute," he said.
"Fabian re-signing, Carles coming in and the way he is playing, Sinclair coming in is a breath of fresh air as well. So there are a lot of good things going on at the minute."
Sinclair joined City on a four-year deal from Swansea in 2012 but made just three starts and 19 appearances in total.
He has played just 25 minutes this season and has not featured for City since coming on late in the 2-2 draw with Burnley in December.
Last season was spent on loan at West Brom, but he played just eight times in the Premier League.
Sinclair told Aston Villa's official website: "It's taken a few weeks but I'm happy to be here, to be in the building and to be signing for the club and ready to play some football.
"It's nice to be able to get settled somewhere and be a part of something going forward.
"I spoke to the manager and he gave me his views on what he wants from me here at Villa. I am still hungry to play football, that's what I told him, and I'm looking forwarding to getting started, hopefully playing every week and enjoying my football."
Lambert believes that Sinclair has the ability to become a leading player for the club.
"He is a player that I think has got great unfulfilled potential to do really well," he said.
"If you don't play for a long time, form starts to go away from you. The only way you get your form back is if you play games. He has got an opportunity to play games and he is a player I think can do really well here."