Wrexham poll members to pick new kit for next season
Last updated on .From the section Football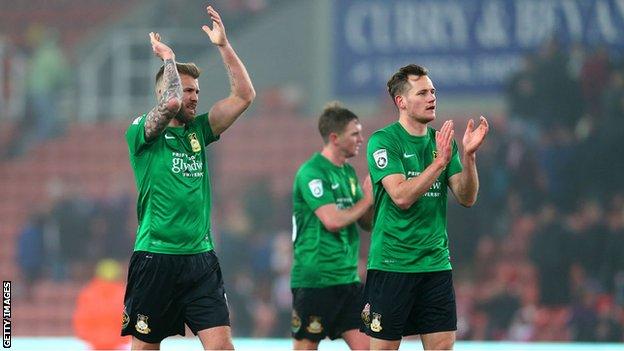 Wrexham have asked the club's almost 4,000 co-owners to help select the Conference side's kit for next season.
The online poll will stay open until the final whistle of Tuesday night's FA Trophy replay at Gateshead.
Wrexham director John Mills said: "Our newest members' benefit is the chance to help choose the kit for the next season.
"We are sure this will prove very popular with fans and may just tip us over the 4,000 members mark."
The winning strip will be revealed to fans at the home game against Barnet on Valentine's Day, 14 February.
Wrexham has been wholly owned by the club's supporters since a successful buy-out in December 2011.
"Being a co-owner of Wrexham Football Club brings some fantastic benefits," Mills added.
"Since we secured ownership of the football club in 2011, it really has been a spirit of 'Our Club, Our Future' as we set about stabilising and then growing the club.
"We wanted to thank our members in our anniversary year and to find something they could be a part of, no matter where they live. So we are now saying to all our co-owners, it's 'Your Club, Your Shirt'.
"We want them to choose the kit that their team play in. There are two choices for the home kit, and two for the away kit.
"We hope also, that greater numbers than ever will want to buy the kit they've chosen."