Jose Mourinho: Will silence be golden for Chelsea manager?

By Phil McNulty
Chief football writer
Last updated on .From the section Football634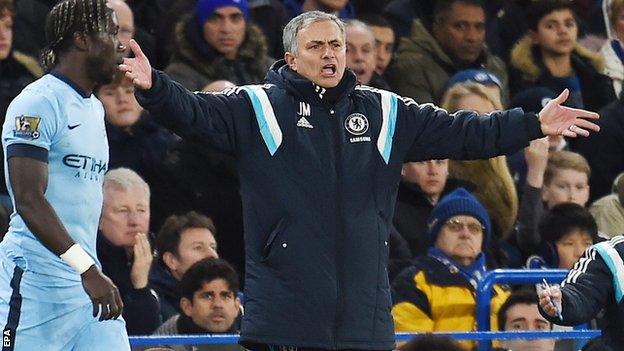 The Premier League's game of the season was watched by an estimated global audience of 650 million and covered by a record 26 television crews - but Chelsea and Manchester City could not serve up a spectacle to match the expectation.
The 1-1 draw keeps Chelsea five points clear of City and in prime position at the top of the table, yet conflicting emotions swirled around Stamford Bridge at the conclusion of a disappointing game.
Jose Mourinho's approach suggested a draw was satisfactory and while City counterpart Manuel Pellegrini may feel an opportunity was lost against a Chelsea side without suspended top scorer Diego Costa and the injured Cesc Fabregas, he will still feel right in this title race.
And, as usual, the figure of one man cast a giant shadow over proceedings at Stamford Bridge.
Tormented Mourinho
Jose Mourinho cut something of a tortured soul in his technical area - an indication that he is now fostering a 'Chelsea against the world' mentality in the face of perceived injustices.
Mourinho is silent in his bunker, if not in the presence of match officials who felt the rough end of his tongue on occasions during Saturday's game.
The Football Association charge and subsequent suspension of Costa for his stamp on Liverpool's Emre Can in the Capital One Cup semi-final - and the coverage of the striker's behaviour - has left Mourinho with a burning sense of injustice.
Few outside Stamford Bridge seriously expected the 26-year-old 'streetfighter' to escape punishment despite his protestations of innocence, but Mourinho clearly now has a cause which he is using as a galvanising force, an old trick he has utilised before and one bought into by Chelsea's supporters.
He declined to meet the media before this pivotal Premier League game and produced programme notes so short that they left plenty of white space on the allotted page and ended with an impassioned declaration which hinted at Mourinho's siege position.
"I love this game, I love these players and I love this club. Come on Chelsea!"
Premier League managerial records

P

W

D

L

F

A

Win %

Pts

Ave pts per game

Ave goals per game

Mourinho

181

126

37

18

338

114

69.61

415

2.29

1.87

Pellegrini

61

41

11

9

148

60

67.21

134

2.2

2.43
Mourinho prowled the touchline throughout, earning a rebuke from referee Mark Clattenburg at one point and going through the full lexicon of body language, especially when he felt decisions had gone against Chelsea - every wave of the arms and impassioned look up into the stand a reminder to supporters that he felt his club were victims and they should rally to his call.
And, predictably, there was no sign of Mourinho after the match - although we must put any strictures in context by pointing out that Manchester United manager Sir Alex Ferguson was a no-show for so many years that it was not even a subject for debate by the time he retired.
Mourinho, as Ferguson often did, is circling Chelsea's wagons as the title race gets tight. He is leading a club he portrays as under attack and fighting the odds. It is a position he has adopted before - and one that has often ended with success.
Chelsea make their point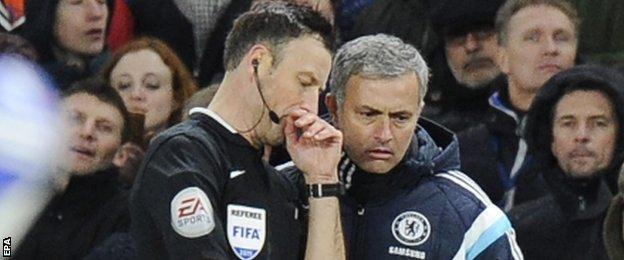 When Mourinho removed goalscorer Loic Remy and sent on defender Gary Cahill with three minutes left it prompted instant uproar among the travelling support.
"Boring, Boring Chelsea" was the first response followed by a more colourful refrain that, to put it politely, accused Mourinho of tactical cowardice.
And yet, in reality, this was Mourinho at his most pragmatic. Half a loaf was better than none with Chelsea holding the lead in the title race - and he did not care whether City's fans liked it or not.
It was not ambitious, it was not attractive but it was wholly practical and typical of Mourinho's game-management. In the absence of his most potent goal threat in Costa, and his goal-provider-in-chief Fabregas, he settled for a point - and in fact looked like he had settled for it a long way out.
Mourinho does not deal in football's romantic side. He is a realist and was not prepared to risk defeat in pursuit of a victory that looked increasingly unlikely. The door was not going to be left ajar for City to slip through.
Pellegrini refused to be drawn on Mourinho's conservative approach, saying: "I don't know what happened with Chelsea. From the first minute we tried for the three points.
"I think both teams have a clear style of play. Everyone wants to play in the way they think is better. He has a style for Chelsea and I have a style for my team."
The purists may scoff but Mourinho will tuck this point away in the hope it will serve him well later in the season.
Lampard's return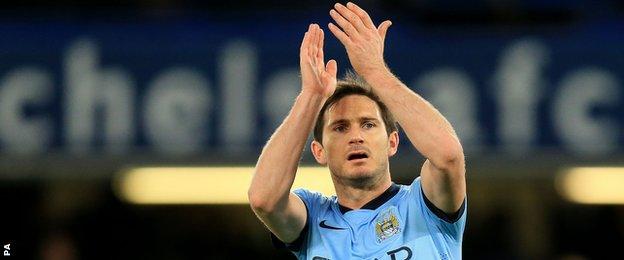 Mourinho did not devote a single sentence of his programme notes to Frank Lampard's return, despite a Chelsea club record of 211 goals in 649 appearances, three titles, a Champions League, four FA Cups, two League Cups and a Europa League.
And in a strange atmosphere, it took until the final whistle before a player who deserves legendary status felt the full love of Stamford Bridge.
Lampard's departure did not allow him the luxury of a fond farewell and the sight of him pitching up at Chelsea's closest rivals (not to mention scoring against them at Etihad Stadium earlier this season) appears to have diluted the affection slightly.
Indeed one misguided individual, a grown man at that, brandished what looked like a hastily-assembled poster calling the Chelsea great 'a traitor' while another flag was draped over the stand bearing a picture of Lampard in a City kit emblazoned with the words 'Frank Is Shameless'.
When he was introduced with 14 minutes left, feelings were running high as one group of dissenters were cut short with a shout of "you've got a short memory" from a Lampard fan.
The majority of Chelsea fans, however, warmly recognised his contribution with a giant flag claiming 'Forever In Our Hearts' - and when he went on an impromptu walk around Stamford Bridge at the final whistle, alone while other players had left the stage, the familiar chant of 'Super Frankie Lampard' rang out.
As he left applauding those who once once adored him, he may just have harboured a mischievous thought that this was a result that still offers him the opportunity to add a fourth title medal to his collection - this time at Chelsea's expense.
Can City claw it back?
While City may sense a missed chance by not beating a Chelsea side without Costa and Fabregas, they were also without their talisman Yaya Toure and with new £25m striker Wilfried Bony yet to be introduced as he is also with the Ivory Coast at the Africa Cup of Nations.
So while a win would have been ideal, a point was hardly a catastrophic outcome and Pellegrini will feel that five-point gap is not insurmountable.
Recent history tells us City are confident and comfortable chasing down a lead. In 2011-2012, Manchester United had an eight-point advantage over City with six games left that disappeared when they lost at Wigan Athletic, drew at home to Everton and were then defeated in a derby at the Etihad. The title, of course, was eventually won on goal difference by Sergio Aguero's injury-time winner against QPR.
Last season Liverpool had a five-point lead at the top with three games left. City were third, nine points behind with two games in hand, before pouncing ruthlessly on Liverpool's late slips as they lost to Chelsea at Anfield and conceded a three-goal lead in the last 11 minutes at Crystal Palace.
How the Premier League table looked after 23 games in previous seasons

Season

Top team

Second team

Points difference

Champions

Notes

2013-14

Man City

Chelsea

1

Man City

2012-13

Man Utd

Man City

5

Man Utd

2011-12

Man City

Man Utd

Goal difference

Man City

2010-11

Man Utd

Arsenal

5

Man Utd

2009-10

Chelsea

Man Utd

4

Chelsea
If Bony can hit the ground running and Aguero regains the edge of sharpness that is just eluding him after a month out with a knee injury, City will feel they have the quality to apply pressure to Chelsea.
Chelsea will make an addition of their own in the shape of Fiorentina's Colombian attacker Juan Cuadrado but the two benches on Saturday suggested City have the stronger squad.
City had the likes of Edin Dzeko, Frank Lampard and Stevan Jovetic to bring on, with Pablo Zabaleta and Aleksandar Kolarov as defensive reinforcements.
Chelsea has experience in the shape of keeper Petr Cech, Gary Cahill and Didier Drogba but then it was into youngsters such as Ruben Loftus-Cheek, Nathan Ake, Andreas Christensen and Izzy Brown.
Pellegrini and City may have left west London with heads bowed had they lost and been trailing Chelsea by eight points. They will be convinced five points is perfectly manageable.