Celtic unhappy with Hampden pitch despite win over Rangers
Last updated on .From the section Football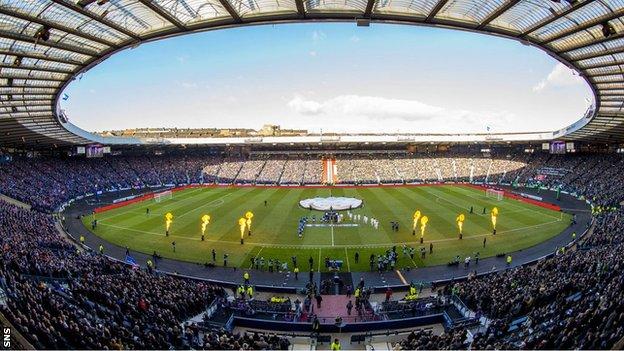 Celtic boss Ronny Deila said the poor state of the Hampden pitch reflects badly on the Scottish game after his side beat rivals Rangers 2-0.
"It is not good for Scottish football. If we are going to entertain our fans and try to be creative we need a proper pitch," said the Norwegian manager.
"This is way below the standard we should play on."
Goals by Leigh Griffiths and Kris Commons sealed a League Cup final place against Dundee United on 15 March.
Both teams will hope that the playing surface at Hampden is in better condition by then. The grass cut up badly and hindered passing moves.
"Today the pitch was so poor it was very hard to have any passing," added Deila.
Celtic skipper Scott Brown also criticised the playing surface.
"The pitch wasn't the best to get the ball down and play but we still managed to do that," he told BBC Scotland.
"It suited Rangers more than anything, but we can win games playing football and win games battling as well."
For Commons, whose thunderous shot put his team two goals up after 31 minutes, the problem with the pitch was not that it was slippy but just too soft.
The forward, whom Deila confirmed will remain at the club beyond Monday's transfer deadline, said: "Any change of direction, you lost your footing.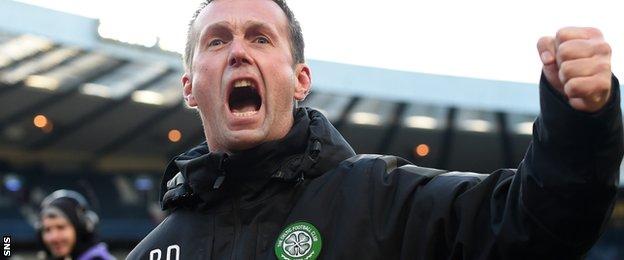 "I wouldn't say it was dangerous but it needs to be sorted out before the final."
Deila expressed his pride in his players, congratulating them for their "attitude and discipline over 90 minutes".
"I'm very happy," he said after his first Old Firm match. "In the first half we scored two very good goals and should maybe have scored one or two more.
"I don't think Rangers had a shot on target and that is a very good achievement.
"But we couldn't keep the pressure up as we had done in the first half. It's very hard to press as tough as we do.
"The fans were fantastic. It was a great experience and even better when you win."
The manager admitted that he is looking to add "a couple of players" in the next day to help tackle the team's busy schedule in the coming months.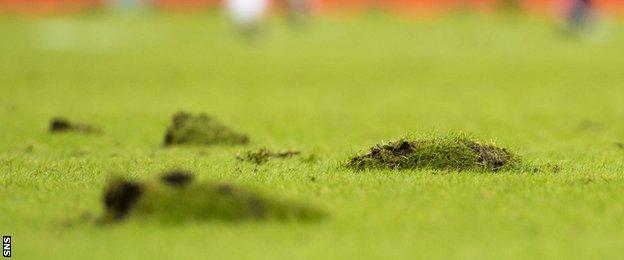 Brown believed Celtic were on top throughout the match, saying: "We knew as soon as we played football, and with the tempo we play at, that Rangers couldn't keep up.
"As soon as we got that goal we knew that our job was done."
Asked if he thought the game had been too easy for his team, the midfielder replied: "Yeah, it pretty much was. We could have had a few more."
Griffiths admitted he had been suffering from pre-match nerves but was delighted to score the opener to help relax him and his team.
"To score any goal in this kind of game is important, but to get the first one and settle everybody down was great," he said. "The build-up to the game was immense.
"The team was announced this morning at the hotel. I went back to my room and I was very nervous, but I got in the changing room and the manager told me to calm down and do my thing.
"It doesn't get any better than this - a full Hampden Park.
"I've got to give credit to the Rangers fans because they stuck with their team right to the end and you saw them in their thousands clapping their team off the park."