Garth Crooks's team of the week: Zouma, Blind, Sterling & Defoe

By Garth Crooks
Football Analyst
Last updated on .From the section Premier League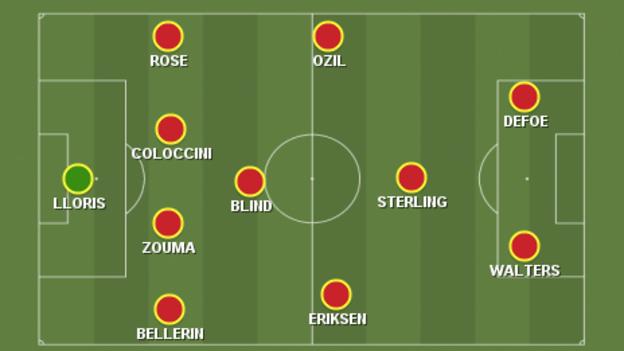 Chelsea remain five points clear at the top of the Premier League table after nearest rivals Manchester City could only draw 1-1 at Stamford Bridge.
Three points separate the next four teams behind City, with Manchester United, Arsenal and Tottenham all winning. Southampton were the only losers in the top six.
Liverpool and Everton both warmed up for the Merseyside derby at Goodison Park on 7 February with wins.
At the bottom, Leicester City are three points from safety after a 3-1 defeat by Manchester United, while fellow strugglers QPR, Hull City, Burnley, Aston Villa and West Bromwich Albion also lost.
GOALKEEPER Hugo Lloris (Tottenham Hotspur)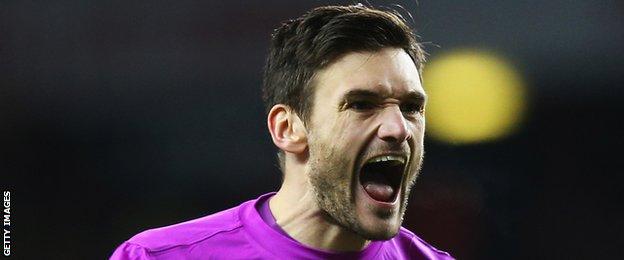 West Brom manager Tony Pullis said in his Match of the Day interview after the 3-0 loss to Tottenham that the two turning points in the game were the saves made by Hugo Lloris from James Morrison and Claudio Yacob. The save from Morrison had Martin Keown widely applauding the Frenchman in the Final Score studio and then nudging me to ensure I had seen the save that he thought was even better from Yacob. Theses save must have been amazing to get Keown excited.
DEFENDER Hector Bellerin (Arsenal)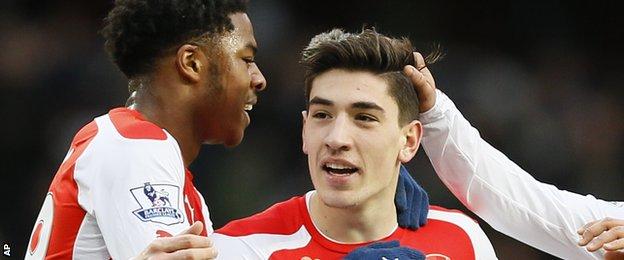 How to add insult to injury. The former Barcelona full-back couldn't have made life any more uncomfortable for Aston Villa manager Paul Lambert than scoring Arsenal's fifth goal in a demolition of Lambert's men. The youngster hadn't scored for the club before so to see him finish with such composure made me sit up and take notice. Bellerin certainly exposed an Aston Villa side who, on this evidence, appear to have lost belief in themselves. That is a very dangerous sign.
DEFENDER Kurt Zouma (Chelsea)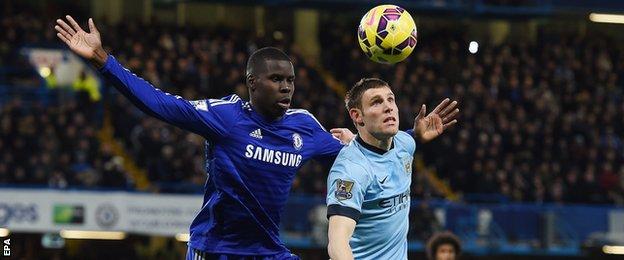 Identifying a talented young footballer is one thing, but being prepared to play a rookie player - particularly in the big games - is a different matter entirely. So Chelsea boss Jose Mourinho should take much credit for having the courage to play Kurt Zouma against Liverpool in the Capital One Cup and Manchester City in the Premier League this week. Remember Mourinho has sacrificed Gary Cahill - an England international - in order to play Zouma, and it's working. I agree with Danny Murphy's comments on Match of the Day. I think we possibly have another Marcel Desailly in the making here.
DEFENDER Fabricio Coloccini (Newcastle United)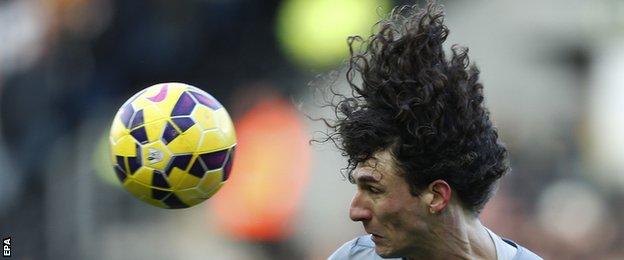 This was a terrific team performance by Newcastle United and newly-appointed boss John Carver. Fabricio Coloccini's clearance off the line was a telling moment in the game for the Magpies, but not as important as the decision by the assistant referee, who spotted a handball by Ahmed Elmohamady and correctly disallowed the goal. An excellent team performance by Coloccini and his colleagues facilitated by superb refereeing by Phil Dowd and his assistant.
DEFENDER Danny Rose (Tottenham Hotspur)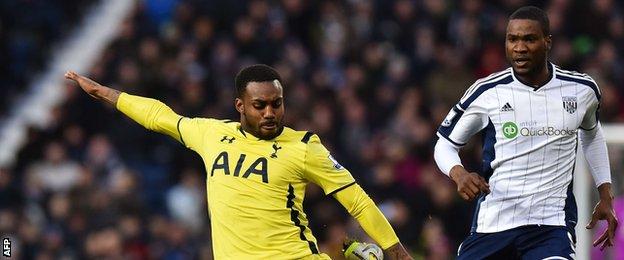 I get the feeling that Spurs might still be feeding off the euphoria of securing a place in the Capital One Cup final. It certainly looked that way as they dismantled West Bromwich Albion at The Hawthorns. Danny Rose's actions in clearing a certain goal off the line while under pressure from Brown Ideye typified Tottenham's performance, and suggests that manager Mauricio Pochettino will have no trouble motivating his players between now and the 1 March final. It's obvious from the performance of Rose and Mousa Dembele that the fight to secure a place in the side at Wembley is already under way.
MIDFIELDER Daley Blind (Manchester United)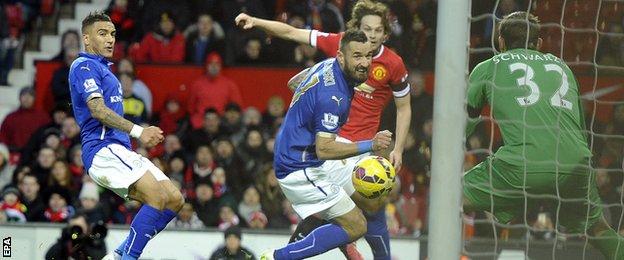 Daley Blind is finally starting to play a leading role for Manchester United and is no longer looking like a mere support act for the likes of Wayne Rooney and Angel Di Maria. It's about time too - the 24-year-old has so much to offer the game it's frightening. Blind gave us a glimpse of what he is capable of as United added to struggling Leicester's problems at the bottom of the table.
MIDFIELDER Christian Eriksen (Tottenham Hotspur)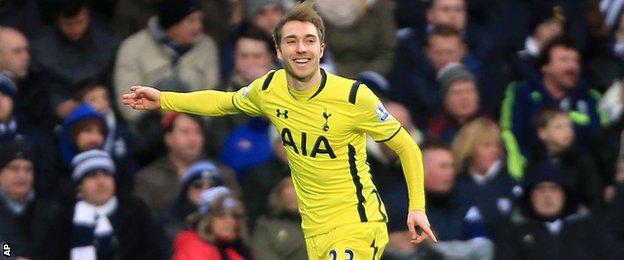 I mentioned a few weeks ago that Christian Eriksen was one of the few players at Spurs who had the ability and the talent to really excite the crowd yet we weren't seeing it enough. Well, we are now. The 22-year-old is playing with such authority and purpose that it has helped transform Tottenham's season and left fans dreaming of Champions League qualification - as well as a Wembley date with Chelsea in the Capital One Cup final. Having scored the goal in midweek that confirmed his side's place at Wembley, Eriksen helped demolish West Bromwich Albion.
MIDFIELDER Mesut Ozil (Arsenal)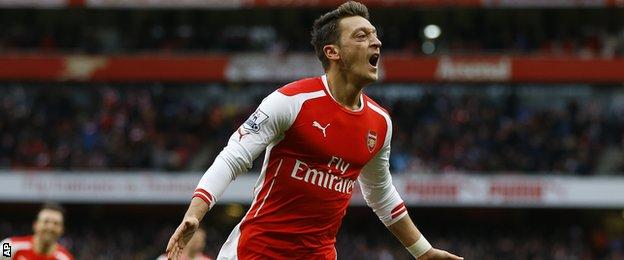 This player seems to float through games at times and it can often be interpreted as a lack of passion or desire. I don't think I've ever come across a Germany international lacking in those departments, but I have seen plenty with an extraordinary amount of talent and a determination not to be hurried, harassed and to play the game on their terms. That was precisely how Mezil Ozil approached the match against Aston Villa - and he destroyed them in the process.
FORWARD Raheem Sterling (Liverpool)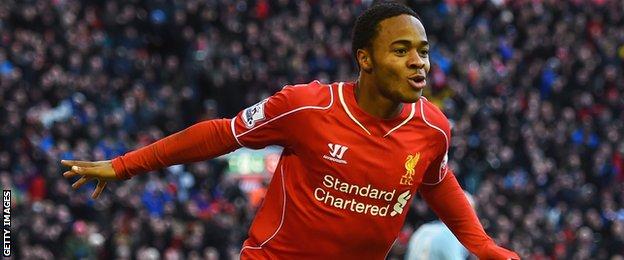 What an outstanding performance by the England international. Let us not forget that it was Liverpool manager Brendan Rodgers who insisted that 20-year-old Sterling go on an extended winter break. Rodgers deserves credit for that because Sterling has stood out since he returned to the side. Great man-management.
FORWARD Jonathan Walters (Stoke City)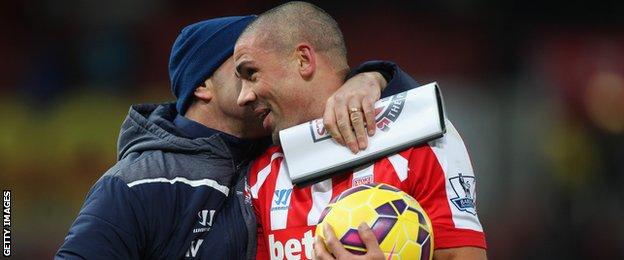 I don't think I've seen a team like QPR work so hard to score a goal to get back into a match and then concede so easily at the other end. Is it any wonder manager Harry Redknapp looks so distressed? The happy recipient of such poor defending by the Hoops this time was Stoke City's Jonathan Walters, who accepted the gifts graciously. The 31-year-old left the Britannia Stadium with the match ball after hitting a hat-trick. Terrific performance by the Republic of Ireland striker.
FORWARD Jermain Defoe (Sunderland)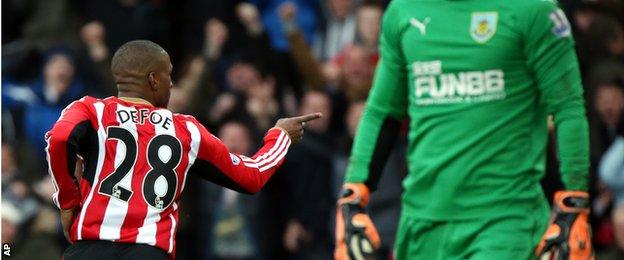 Sometimes a club signs a player and it gives the dressing room a lift. But it is not very often a player signs for a club and the entire city is lifted! That is what has happened in Sunderland since Jermain Defoe arrived on Wearside. It reminds me of the optimism generated by Sunderland fans when Kevin Phillips was in the side. Phillips was a proven goalscorer who wouldn't let the fans down and they grew to love him as a consequence. I see the same relationship developing between Sunderland fans and Defoe. The 32-year-old former Tottenham striker scored his side's second goal to seal victory over Burnley, his first for the club since joining from Toronto. It's good to see Jermain back in the Premier League.