Fifa: Jerome Champagne out as trio fight Blatter in presidential race
Last updated on .From the section Football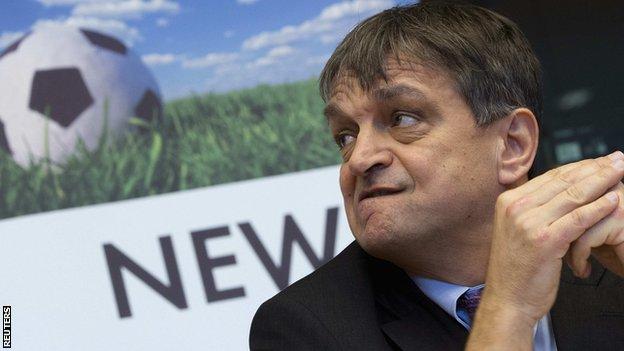 Three candidates are set to take on Sepp Blatter for the Fifa presidency after the withdrawal of Frenchman Jerome Champagne.
Prince Ali of Jordan, Luis Figo and Michael van Praag have been confirmed as runners in the race for the top job at football's governing body.
Champagne failed to win enough support in his bid to unseat Blatter.
"The institutions have mobilised to eliminate the only independent candidate," claimed the 56-year-old.
Blatter, the boss of Fifa since 1998 who is seeking a fifth term in office, faces opposition from Asian Football Confederation vice-president Prince Ali bin Al Hussein, former Portugal international Figo and Dutch football chief Van Praag.
Candidates had to secure the backing of five national football associations, with Champagne only receiving the support of three.
The former Fifa deputy general secretary has been a fierce critic of the organisation.
Each of Fifa's 209 member associations hold a vote for the elections, planned for 29 May, with the Football Association intending to back Prince Ali.