Homeless Ards insist their future is secure
Last updated on .From the section Football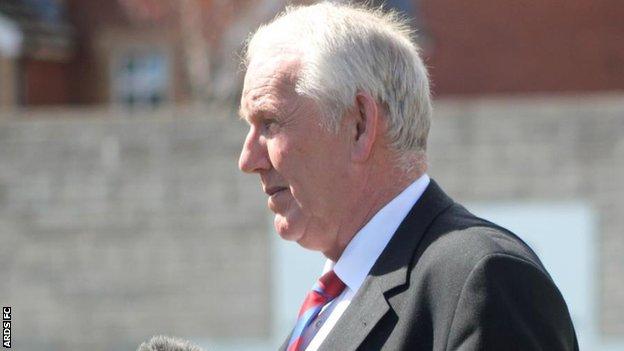 Championship One side Ards have told fans that the club's future is safe despite seeing a deal on a possible new ground fall through.
The club have been without a ground of their own since selling Castlereagh Park in 1999 in order to ease debts.
But they thought they had secured council-owned land on the Portaferry Road in their home town of Newtownards.
However, the council has withdrawn from the proposed deal, and Ards will continue to play home games in Bangor.
The site of the proposed new ground was an area known as the Floodgates.
Immediately after the council's decision became public, Ards released a media statement claiming the collapse of the deal had put the club's future in jeopardy.
However, chairman Brian Adams has admitted that had been an exaggeration.
Ards facts

The club was formed in 1900 by workers from a factory in Newtownards, County Down

Ards have won the Irish League Championship once and the Irish Cup on four occasions
Former Newcastle United midfielder Tommy Cassidy was the club's manager from 1998-99

The club returned to the top flight in 2013 but were relegated after finishing bottom in their first season
"Our immediate reaction was 'we've had it', but we have great supporters and 115 years of tradition behind us," he said.
"We have just signed a three-year extension to use Bangor's ground. That is guaranteed, and during that time we will continue our search for a new home ground.
"We had been in negotiations with the council for about 18 months for 15 acres from Ards Borough Council.
"We were at the later stages and thought everything was about to be signed.
"There have been a number of false dawns over the last 12 years and now the plug has been pulled again."