Jermaine Hylton: Swindon forward relishing pro career
Last updated on .From the section Football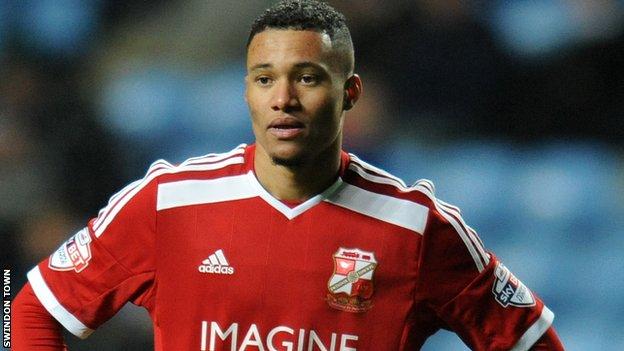 Swindon's Jermaine Hylton says it feels "surreal" to be playing professionally after years in non-league football.
Hylton made his debut as a substitute in Town's win over Coventry, just four days after signing his first pro deal.
"I was sitting on the bench and looking around the stadium thinking 'how did I get here?'" he told BBC Wiltshire.
"I saw the first six months as training and maybe playing in the reserves, gradually easing myself into professional football.
"To have signed and then a couple of days later, making my debut on TV at Coventry, it was a bit surreal.
"At least now I can say I did what I set out to do."
'The smallest kid you could ever have seen'
Hylton is not a product of a youth academy. Instead, as a teenager, he "bounced" around non-league and Sunday league clubs trying to move up the pyramid.
The only experience he gained at a professional club prior to Swindon was in the youth set-up at Birmingham, but it did not go according to plan for the then-defender.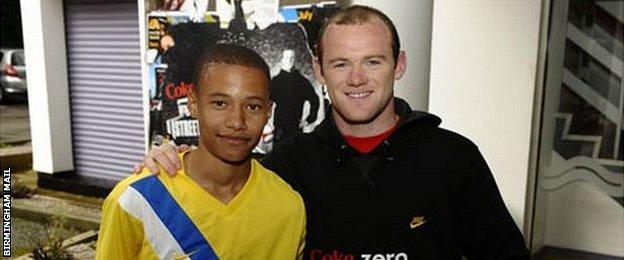 "I was at Blues for nine months, training and playing a couple of games, but at the time I was a centre-back and I was the smallest kid you could ever have seen," said Hylton, now 5ft 10in.
"They liked me ability-wise, but at that time I was a bit small. But they saw my dad, and he's 6ft 4in, so they said they could see I had height in my genes and they'd wait for me to grow.
"But after nine months or so, I thought I'm not growing and I don't know if I am ever going to grow. I knew I wanted to change positions, so I thought my best bet was going back to Sunday league and rebuild."
Enjoying the quiet life
It was during his time at Redditch that he started to attract interest from both Conference and Football League clubs, and Mark Cooper's Swindon won the race to sign him on a two-and-a-half year deal.
Hylton says he is now enjoying life as a full-time footballer.
"I'm comfortable now and getting used to being a pro. I'm training every day so I can't go out in the evenings. It's a lot more settled.
"I could pretty much do what I wanted before I went pro so I enjoyed my free time then and when it came to crunch time, I had it out my system.
"Now I'm perfectly happy sitting in my house and just watching Netflix."