Algeria salutes retiring Madjid Bougherra
Last updated on .From the section Football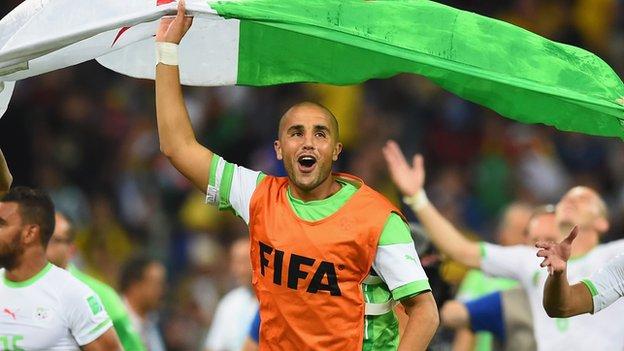 With Algeria's defeat by Ivory Coast in the Africa Cup of Nations quarter-finals, Madjid Bougherra's international career came to a close.
The 32-year had already announced the competition would be his last for the Desert Foxes - although the captain will make one last appearance in March for a post-tournament friendly before finally bowing out.
Speaking after Sunday's 3-1 defeat, Bougherra said: "After 11 great years with the Algerian national team, I think it is time to say goodbye. I have taken so much pleasure (from playing), but I still have one more friendly match in March to finish with my team-mates."
The centre-back has amassed 70 caps in Algeria's green and white tunic. He rates his first call-up with Algeria's Olympic team in 2003, Algeria's qualification to the 2010 World Cup, and his goal against Ivory Coast in the 2010 Africa Cup of Nations quarter-finals as his favourite moments.
Bougherra's accomplishments are especially impressive in light of the challenges he faced during the incipient stages of his career.
At the age of 20 it was not at all certain that he would succeed as a footballer. The gentle giant did not play professionally until signing for Gueugnon in 2002, and even then he considered other employment after feeling under pressure to provide financial assistance to his single-income home.
Bougherra's break came on loan at Crewe Alexandra in 2006 - and it was in England that he would begin to climb the professional ranks.

His performances in Cheshire earned him a move to Sheffield Wednesday, which prompted a move to the Premier League just a year later with Charlton.
But the prime of Bougherra's career would be spent in Scotland, playing for Rangers.
Bougherra won the John Greig Achievement in 2009 as the supporters' Player of the Season in 2009, he played in 10 Champions League matches and scored the 2010 Scottish Premier League's goal of the season in a fruitful three-year stint.
For the past four years Bougherra has played in Qatar but has repeatedly hinted that he would like to return to Glasgow before quitting club football.
Bougherra's success on the pitch has allowed him help to others off of it. The Madjid Bougherra Foundation, founded in 2012, assists handicapped children, orphans, and families who are in need of financial aid.
Bougherra is also one of two Unicef ambassadors to Algeria, alongside former FC Porto superstar Rabah Madjer.
An overwhelming sense of gratitude is palpable in Algeria as the curtain is called on Bougherra's career.
Newspapers headlined a message of thanks to the Dijon native, who jumped at the chance to represent his country of origin.
Both in a sporting context and outside of it, Algerians all around the world salute the man Bougherra has become.