Harry Redknapp: Has former QPR boss lost his sparkle?

By Phil McNulty
Chief football writer
Last updated on .From the section Football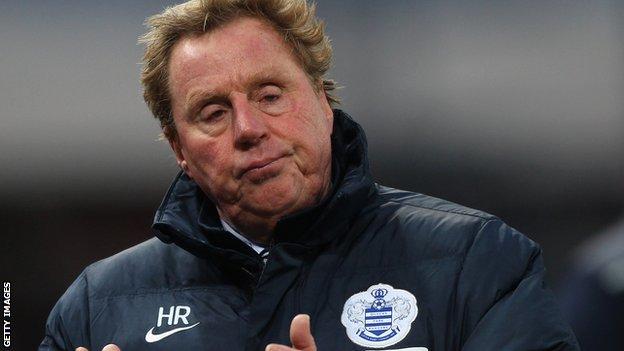 Harry Redknapp's 05.30 GMT phone call to Queens Park Rangers owner Tony Fernandes on Tuesday ended the latest chapter in the managerial career of one of the game's most enduring figures.
Just a few hours after the latest deadline day had ended, Redknapp was telling the man who gave him a vote of confidence as recently as a fortnight ago that it was over.
The 67-year-old cited knee replacement surgery as the reason for quitting but he had looked a little jaded after failing to make any signings to assist a side struggling in 19th place in the Premier League.
So have we seen the last of Redknapp in the dugout, or will he pop up again to talk transfers through the window of his car?
Three years of decline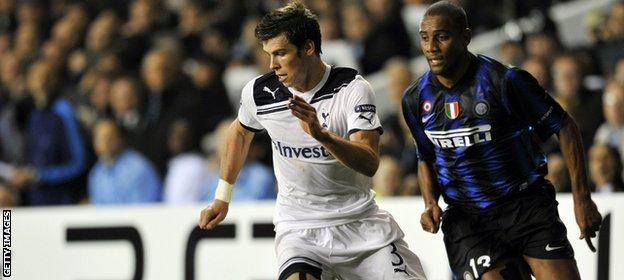 On 8 February, 2012, it looked like Redknapp was going to walk from the steps of Southwark Crown Court and straight into the England manager's job after being cleared of tax evasion on the day Fabio Capello quit as boss of the national team.
He admitted later that he would have taken the England job had it been offered. But the offer never came.
Instead, Roy Hodgson, who had rebuilt his career with West Bromwich Albion after a damaging spell at Liverpool, was the surprise choice of the Football Association.
Worse was to come for Redknapp. As Hodgson led England into Euro 2012, he was sacked by Spurs.
The London club had finished fourth in the Premier League, seemingly securing Champions League football.
But Chelsea's unlikely win over Bayern Munich in the final of Europe's top club competition just a few weeks later denied Tottenham their place among the elite and cost Redknapp his job.
Did deadline day signal the end?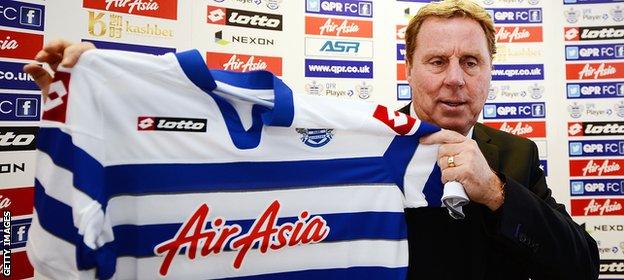 Redknapp is adamant QPR's failure to do any business on deadline day, when he usually works the markets for a restorative effect on his teams, did not contribute to his departure.
There is no question, however, that he looked deflated when he conducted his traditional late-night interview with the waiting media with nothing other than disappointment to reflect on.
Spurs striker Emmanuel Adebayor had no desire to rejoin him at QPR, neither did Adebayor's club-mate Aaron Lennon, who preferred a loan move to Everton.
He attempted to sign West Ham's Matt Jarvis but was blocked because Rangers had already had taken Mauro Zarate on loan from the club.
Significantly, Fernandes had indicated - a little ominously for Redknapp - that it would not be a deadline day to remember for QPR fans.
Writing on his Twitter account, he posted the message: "No more cheque book. We have good players. Bought all the players manager asked for in the summer. Our players not mercenaries. Good guys."
Conspiracy theorists understandably drew the conclusion that Fernandes was telling Redknapp it was time to work with what he had.
Whatever the motive, it was a deadline day to forget for Redknapp.
Losing his touch?
Redknapp's Premier League record

Wins
Draws
Losses
Win %
QPR

, 2012-2015

9

13

26

18.75

Tottenham

, 2008-2012

71

37

36

49.31

Portsmouth

, 2005-2008

42

26

39

39.25

Southampton

, 2004-2005

4

8

10

18.18

Portsmouth

, 2002-2004

16

12

23

31.37

West Ham

, 1994-2001

94

71

104

34.94
QPR offered Redknapp a way back in November 2012 following the sacking of Mark Hughes, but he could not stop the London club from sliding into the Championship.
Rangers bounced back immediately, securing promotion to the Premier League via a Wembley play-off win over Derby County, but the top flight remained dodgy territory.
Just five wins all season - and an horrendous run of 11 straight league defeats away from Loftus Road - tell the story.
Redknapp was forced to deny claims he was one defeat from the sack when they entertained Manchester United last month.
QPR were beaten 2-0 by United but Redknapp remained defiant and Fernandes backed him publicly.
By the time he quit, Redknapp had lost 26 of 48 Premier League games in charge, winning just nine. That's a miserly win ratio of 18.75%.
Contrast this with his fine spell at Spurs, where he won 71 of 144 games.
More than a wheeler-dealer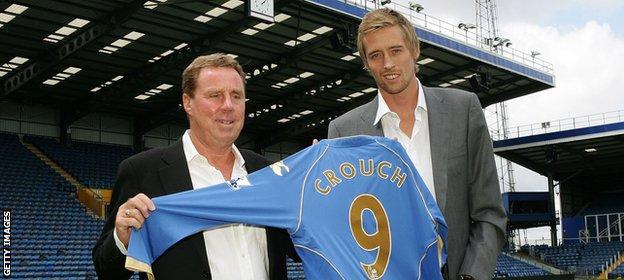 It's a phrase Redknapp hates more than any other when used to describe him. It is true he can work the markets but this should not diminish his work on the training ground.
A fierce advocate of attacking football, he boasts man-management skills that make big-name stars with big egos happy to play for him.
During his time at Portsmouth, starting with a first spell as manager in March 2002, he took them up to the Premier League before quitting in 2004 following a disagreement with owner Milan Mandaric.
An ill-fated spell at bitter rivals Southampton ended in relegation, but a return to Portsmouth resulted in a trophy, the FA Cup in 2008.
The side was built on the back of some big spending from owner Alexandre Gaydamak and boasted the likes of David James, Glen Johnson, Sol Campbell and Sylvain Distin.
Peter Crouch and Jermain Defoe were also convinced to move to Fratton Park during Redknapp's reign there.
At Tottenham, Redknapp was at his best, succeeding Juande Ramos in October 2008 with Spurs adrift at the bottom of the Premier League with two points from eight matches.
He kept them up and the following season made history by taking them into the Champions League for the first time.
Spurs swept into the last eight, beating Inter Milan 3-1 on a thunderous night at White Hart Lane, as well as beating AC Milan 1-0 in the San Siro. Their run was ended by Jose Mourinho's Real Madrid.
So will he return?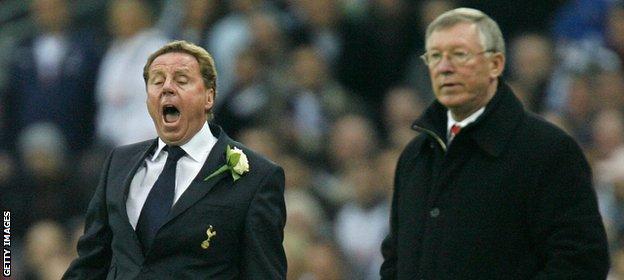 At 67, it must surely get increasingly hard for a manager at this stage of his career to find the fire for a relegation fight.
But Redknapp sounded up for the battle until the very end, cursing his fortunes and criticising individual errors after Saturday's defeat at Stoke.
Redknapp is one of the last of a dying breed of the old school of managers, past pensionable age but still working in the Premier League until Tuesday.
He insists he will be looking for work once his knees are back to full working order - and there may just be a club out there looking for an experienced hand to take the tiller.
Will he one day return to Bournemouth, where he is still revered? Not on the agenda now Eddie Howe is doing so magnificently and the Cherries are in the frame for automatic promotion from the Championship.
Still, the word from Redknapp is that he is not finished yet.