Leeds United: Massimo Cellino will return - chairman Andrew Umbers
Last updated on .From the section Leeds United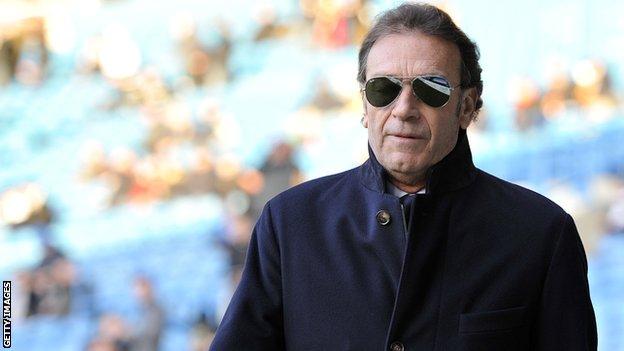 Leeds United chairman Andrew Umbers is confident owner Massimo Cellino will return to Elland Road when he has served his Football League ban.
The Italian is not allowed to have anything to do with the running of the club until 10 April.
In accordance with the ban, he stepped down on 23 January.
"I know Massimo well and it is his absolute intention to come back to Elland Road," former investment banker Umbers told BBC Radio Leeds.
"He is a very good leader and he is passionate about Leeds.
"He wants to re-engage with fans, the council and the community and he is committed to that.
"He is the steward of this ship. I am the steward of it while he is away, but it is his ship."
Who is the new Leeds chairman?
Andrew Umbers was the man tasked by the previous Leeds United owners GFH Capital, who still own 25% of the club, to find new investors - the man he found was Massimo Cellino.
He has since remained at the club as an advisor to the Italian on the club's board.
Recently he was part of the defence team at the Football League appeal hearing against Cellino's disqualification.
Cellino, 58, was disqualified in December after the League obtained documents from an Italian court, which had found him guilty of tax evasion.
The Professional Conduct Committee set up to hear Cellino's appeal against the decision ruled that the verdict of the Italian court was for an act involving dishonesty, which is a disqualifying condition under the League's owners' and directors' test.
Despite disagreeing with the disqualification, Umbers said Cellino decided to accept their judgement for the good of the club.
"There were options we could have taken to postpone it," Umbers said.
"He took it on the chin because he wanted to totally respect the Football League and come back with a totally open mind where the club is not in dispute with the league and they respect him.
"Massimo Cellino wants to do the right things."
Meanwhile, Umbers reiterated Cellino's desire to buy back Elland Road, which the Championship club have not owned since 2004.
"We know that we have got to own our own assets. It's wrong to be a guest in our own home," Umbers added.
"It is our intention to buy the stadium. This is a club that belongs to its fans and to the community.
"I don't want to give a date because I think it would be wrong to manage that expectation, but I think this time next year a lot will have changed around the stadium and Leeds will be a wealthier club for owning its own assets."