Rangers: Dave King confident of takeover success at Ibrox
Last updated on .From the section Football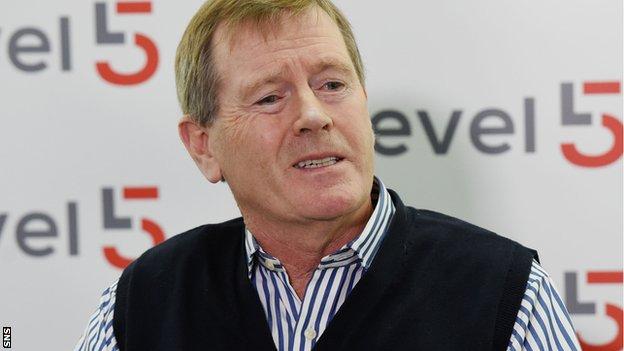 Shareholder Dave King is confident of his group's chances of winning a vote to overthrow the board when an emergency general meeting takes place.
But he insists it is not about forcing Sports Direct and Newcastle United owner Mike Ashley out of the club.
"I am very confident that we have more than 50% of the total shares in issue," said South Africa-based King.
"It is not about driving out Mike Ashley. I don't get any sense he's going to sell his shares."
Loans from Ashley and Sports Direct have kept the Scottish Championship club in business over recent months, while five players arrived at Ibrox on Monday from Newcastle to bolster their promotion campaign.
But the Scottish FA has called Rangers and the English businessman to March hearings about his dual interests in the clubs, having already blocked his desire to increase his shareholding at Ibrox above his current 8.92% holding.
Dave King on Rangers' future
"The vision for me, as a fan, is to see the Rangers that I know - the nine-in-a-row Rangers that we saw and were a dominant club in Scotland.
"Not necessarily winning the league every season but every season expecting to compete with Celtic and performing well in Europe.
"If one looks at the football talent at the club at the moment and if you look at the financial position of the club, to address the obvious gap between ourselves and Celtic, that is clearly absent."
Ashley's associate, Derek Llambias, is Rangers' chief executive, while Sports Direct executive Barry Leach is finance director.
On Ashley's involvement at Ibrox, King added: "I think he can be [an asset for Rangers]. He's obviously a very wealthy guy and has shown a capacity to put money into the football club. He has a business which is closely aligned to the activities of the football club.
"If there was a way to work with him to create value and that value was appropriately shared between the football club and Sports Direct then I wouldn't see any difficulty with that."

King has called a general meeting, a date for which has yet to be announced but where he hopes to replace the current board with himself and his own associates, Paul Murray and John Gilligan.
"It is more important that we have a board that have the influence, the desire and the financial capability of taking the club forward," he said.
"Whether that's with Mike Ashley or without Mike Ashley, personally I'm quite indifferent to that."
King, a former Rangers director, was thwarted last year in an attempt to invest in the club. However, he is also confident that his latest plan will be able to rescue Rangers from their current financial problems.
"With the people on board and the commitment from the original shareholders who were party to the discussions in November, we certainly see us as having enough financial resources," he said.
"The meeting should be called on Friday if the board takes the maximum time possible.
"I've had no indication from the board there is any difficulty with the requisition. They have had three weeks to look at it, so I'm assuming if they call the meeting on Friday and if it runs in 21 days then I will be back here in three weeks' time.
"We will have the meeting and then immediately have a new board. Then we will go to work on the business of the club."