Vanishing spray for Scottish referees on Cup weekend
Last updated on .From the section Football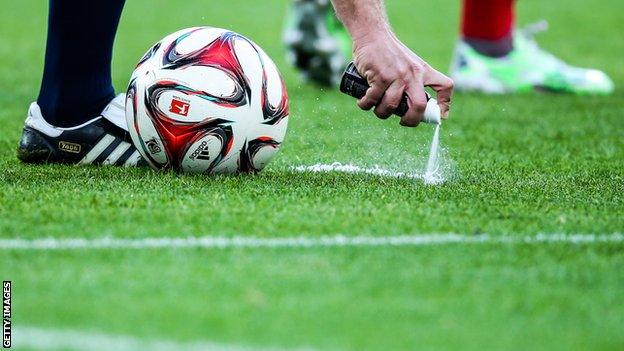 Referees are to use vanishing spray - to mark out 10 yards at free-kicks - for the first time in this weekend's Scottish Cup fixtures.
The equipment will then be introduced to Scottish Professional Football League matches.
Scottish Football Association's head of referee operations John Fleming, said: "Vanishing spray is a simple yet effective tool.
"It will aid our referees in their management of set-piece situations."
The spray is now deployed in 13 European countries, including England, after being used at the World Cup in Brazil last summer.
Designed to stop encroachment, the referee sprays a circle round the ball and paces out 10 yards from where it has been placed.
The line marks the position where the defensive wall should stand and the spray disappears from the grass within a minute.