Rangers: Dave King prepares for power shift at Ibrox

By Richard Wilson
BBC Scotland
Last updated on .From the section Rangers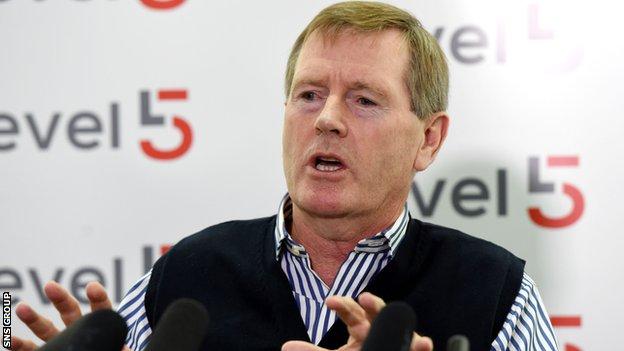 Last month, Dave King formally requested that the board of Rangers International Football Club call a general meeting, with resolutions for the removal of all current directors and the appointment of himself, Paul Murray and John Gilligan.
The board have until Friday at the latest to set a date, and the GM must be held within a 21-day period. King and Murray are both former directors, while Gilligan was managing director of Tennents Caledonian Breweries.
On Wednesday, the trio outlined plans for the club and King addressed issues around his "fit and proper person" credentials, following a long battle with the South African Revenue Services, as well as Mike Ashley, whose Sports Direct business has offered the club £10m in loans, with the first £5m being drawn down and used to pay a previous £3m loan.
Here BBC Sport Scotland looks at the current state of play.
The General Meeting
Unless the board take issue with King's requisition notice, they are obliged to call the meeting. So far, King has had no response from the board, although the nomad - the company that manages RIFC's listing on the Alternative Investment Market - offered a compromise whereby the current directors remain and three are added. King rejected this.
"I'm very confident," King said. "If I look at the present shareholding list, particularly with some small improvements from our side since we requisitioned the general meeting, I'm very confident that we have more than 50% of the total shares in issue.
"It must be as clear to the board as it is to me that the outcome of the general meeting is assured. [They should] make the appointments and resign.
"If somehow there was a complete turnaround and we lost, I'd go in the market place and buy another 5% and do it again. I don't think that's necessary, my view is that the deal is done. This will happen."
Fit and proper criteria
King spent 11 years in dispute with SARS, during which one judge described him as a "glib and shameless liar", ending with a settlement in which he paid more than £40m in taxes and around £4,500 in fines relating to 41 convictions for breaching Section 75 of the Income Tax Act.
He also agreed to pay around £498,000 to the Criminal Assets Recovery Account.
This background, along with his presence on he board of Rangers when Craig Whyte put Rangers Football Club plc into administration, runs counter to the Scottish Football Association's fit and proper person criteria, meaning that King needs to persuade the SFA's Professional Game Board of his suitability to be a director.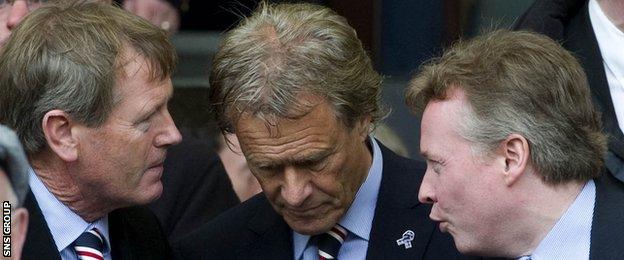 "As far as the tax issues is concerned, I don't see the position being any different in the UK than it is in South Africa," said King. "If one looks at the litigation, it's fairly easy to take out some sound bites over 11 years.
"I spent £50m in the most adversarial litigation in the history of the country, you don't spend that amount of money unless it's long and hard-fought. During the course of that litigation there are casualties on both sides.
"I was heavily criticised by judges who didn't believe my version. I had situations where SARS were heavily criticised. Ultimately, when it comes down to fit and proper, the final outcome is that my version prevailed.
"SARS agreed that while there was a tax dispute, no fraud was committed. The final settlement is one that has no impact at all on my ability to be a director in South Africa. The South Africa companies act mirrors the UK companies act and I already have legal opinion that the situation is no different.
"The AIM regulations are no different to the regulations of the Johannesburg Stock Exchange and I'm the chairman of a public company down there. The nomads I've spoken to have no issue with me being on the board of Rangers.
"I expect the SFA to ask me a lot of questions. One of the concerns, I would imagine, is why I stayed on the board while Craig Whyte was there and I'm going to have give reasons for that and they are going to have to be satisfied. I believe I will satisfy these questions once they are asked."
Plan for Rangers
The team is off the pace in the Championship title race, and the business currently runs at a loss.
Despite alternate offers, the board took a loan of up to £10m from Sports Direct, whose owner Ashley holds an 8.92% stake in RIFC and whose associates, Derek Llambias and Barry Leach, are he chief executive and finance director, respectively, at Ibrox.
So how does King intended to address he club's problems?
"The vision as a fan is to see the Rangers I know, a dominant club in Scotland," he said. "If we're going to invest in the club, which we're committed to doing, we don't want to go out and bet the bank.
"It's got to be a phased approach. The fans will be expecting a commitment from the new board that we will not ever put Rangers into that financial predicament again. We're going to have to be smart in how we manage the financial resources.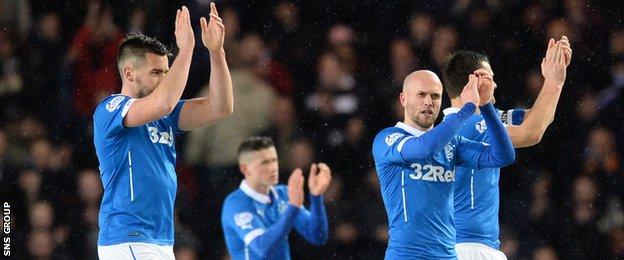 "We'd be looking for investment from supporters. I don't believe that any individual should be in control of a football club. We saw with David Murray that individuals can get into difficulties and that can pass onto the club. I'm happy to contribute 50% of the future funding and I would like others to contribute 50% between them.
"If we run at a profit for the next couple of years, we could never bridge the gap with Celtic. There has to be structured investment.
"That would be a loss in terms of the balance sheet, and we just have to be very careful that we manage the cost base carefully. We have to get a manager who can identify talent and bring it in, we have to get the youth academy going again."
What about Mike Ashley?
As well as his grip on the boardroom, and the various securities on his loan, Ashley's Sports Direct have a commercial arrangement with Rangers. Even if the board is replaced, the Newcastle owner will remain a significant figure at Rangers, so how will King approach that?
"I don't think it's a question of driving Mike Ashley out, he's a shareholder and I don't get any sense he's going to sell his shares," said King.
"It's more important that we have a board with the influence and desire and the financial capability to take the club forward, whether that's with or without Mike Ashley. Personally, I'm quite indifferent to that.
"If there was a way to work with him that created value and that was appropriately shared between the club and Sports Direct, I wouldn't see any problem with that.
"The concern I have is that there are strong allegations that the commercial arrangements are very much in favour of Sports Direct and to the detriment of Rangers. If that was the case, it would be something we would look at.
"If Mike Ashley put £10m into Rangers, I'd expect there to be some cash in the bank, that would be quite pleasant. Would we pay him immediately? I don't think so. There needs to be a forensic investigation.
"If there's some form of malfeasance, the club would have a claim against Sports Direct, in which case I would rather his money was in the club and I would attach the money in lieu of a claim and not pay him back.
"Our intention is in the interests of transparency. If people have acted improperly, it can't be swept under the carpet. It's not going to be a witch hunt."