Jermain Defoe: Striker's arrival a 'wake-up call', says Gus Poyet
Last updated on .From the section Football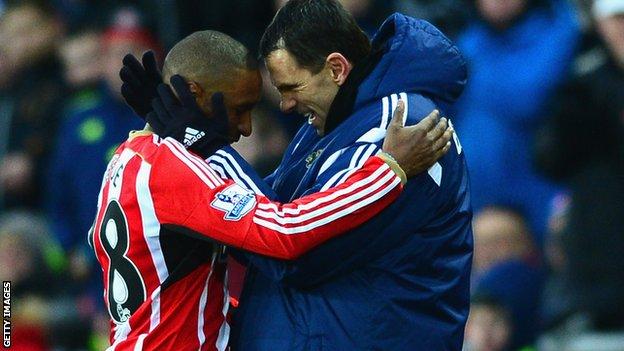 Jermain Defoe's arrival at Sunderland has reinvigorated the strikers already at the club, head coach Gus Poyet says.
Poyet has been delighted with his new charge, as well as the response of fellow strikers Connor Wickham, Steven Fletcher and Danny Graham.
"He's a wake-up call, we can call it," Poyet said. "It's no coincidence that we are winning with him in the side."
He added: "He has come in, a player like him, and you see you are going to have less chance of playing and you need to do something different to be in the team, so we have good competition and it's making us better.
"I know strikers are always about goals, but the way he moves, the options he gives us when he makes runs, how good he is on the ball - he gives the opportunity to others to take advantage of that as well."
Poyet on injuries
Sunderland are without Connor Wickham (calf) and Lee Cattermole (knee) for this weekend's match with Swansea, while Adam Johnson and Jack Rodwell (groin) face fitness tests.
"I was looking at the injuries board and it's incredible. Last week we had 20 players available, now we have a lot of injuries.
"We need to be careful, especially when you have players who maybe have the chance to make injuries worse. You can't risk them all."
On Swansea's playing style
Swansea play with a passing style based on long periods of possession and Poyet is keen to implement aspects of that into Sunderland's game.
"We don't want to be exactly the same, because we have a few differences. But the way they treat the ball, the way they are patient. That is why they are so consistent."