Chris Ramsey backs Tim Sherwood to become QPR boss
Last updated on .From the section Football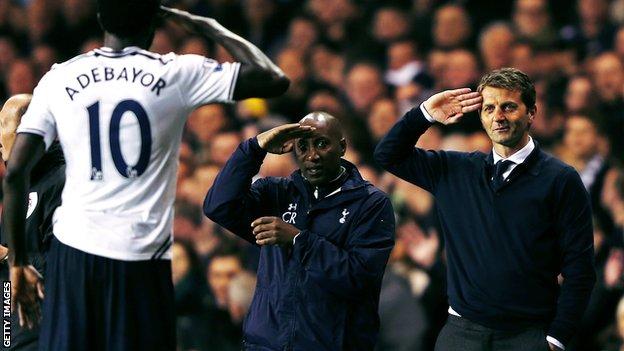 QPR caretaker manager Chris Ramsey would welcome the arrival of Tim Sherwood as permanent boss.
Ramsey, a coach at Tottenham during Sherwood's brief reign at White Hart Lane last term, is in temporary charge following Harry Redknapp's resignation.
"We're good friends outside football so speak regularly," he said of Sherwood.
"He gave me an opportunity at Tottenham to coach in the Premier League so I'd be happy working with him as I think he's very good at what he does."
QPR have made contact with Sherwood, who won 14 of his 28 matches with Tottenham, but no deal has yet been agreed.
Ramsey, who played for Brighton in the 1983 FA Cup final, was brought in by QPR director of football Les Ferdinand, who also worked with Sherwood at Spurs.
Redknapp's former assistant Kevin Bond will work alongside Ramsey at the west London club, who are one place off the foot of the Premier League going into Saturday's home match with Southampton. They are a point behind 17th-placed Burnley.
Ramsey's own aspirations
"When you start off, you always dream of being in the Premier League. Walking out sitting next to [Southampton manager] Ronald Koeman is a proud moment for my family. My remit is to keep the seat warm until they make a decision."
"The owners have been very good to the players here and what we want them to do is repay the fans' loyalty. We want maximum effort and I want to see a bit of flair."
Les Ferdinand's role
"Les is a legend at the club and it's a job that suits him. He's been on the training ground this week and is a fully qualified coach so he can add to the training.
"Basically Les in in charge of everything to do with the football side of it. I'm sure he's going to look at bringing players in and bringing the new manager in and lending his advice. From time to time he will be involved in training and from my point of view it's a necessary addition to have someone of that experience."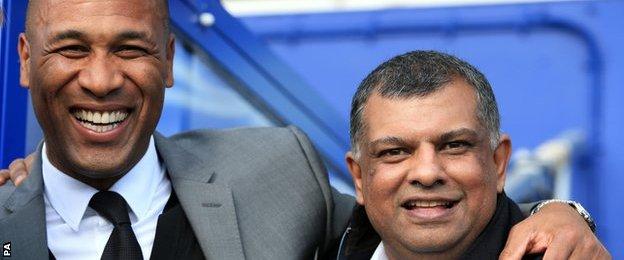 Who has final say on team issues?
"Myself and Kevin have already had a chat about the weekend but ultimately it will be a collaborative thing.
"Les will be involved to a point but on the match day I don't think he'll be coming in to give the pep talks - at some stage myself and Kev have got to get our hands dirty.
What if he and Bond disagree on formation?
"There'll be a fight in the tunnel! No, we won't get to a point where we're disagreeing, we'll discuss and then we'll decide, it's a little bit Kumbaya-ish!"