Manchester City: Wilfried Bony & Yaya Toure will not face Stoke
Last updated on .From the section Football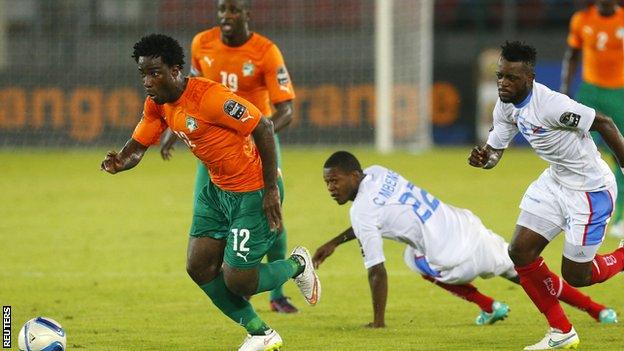 Manchester City boss Manuel Pellegrini expects new signing Wilfried Bony to make his debut in the home match against Newcastle on 21 February.
Yaya Toure is also part of the Ivorian squad that will contest the final, but Pellegrini says it is "impossible" for either to feature away to Stoke in midweek.
On Stevan Jovetic's future
The Montenegrin striker was replaced by Bony in City's squad for the Champions League.
"It is always difficult to take a player out of the list but we have restrictions this year. We bought Bony because I think that we need another striker, a box player, and in the position of Jovetic maybe we have some other options.
"It is a difficult decision but I think it was the best for the squad."
"It is very important for Stevan to try to play now until the end of the season to play as many games as he can and not be injured and try to have a high performance every time he plays."
On City's form
Pellegrini's side have no wins in their last four matches, including 2-0 home defeats by Arsenal and Middlesbrough.
"After a very good December, January was not a good month. We changed again our style of play. We had to arrange our team without strikers.
"After that the strikers came back and they have to have minutes again. The game against Chelsea was a switch of performance because we played away against the best team of the Premier League. I am sure we will see the team we are normally used to seeing."
Is the five-point gap to leaders Chelsea too much with 15 games remaining?
"When you have to play for 45 points, you can close the gap, of course you can do it.
"It is important for our team to try and be near the top of the table as soon as we can and repeat what we did in December and wait until Chelsea and all the teams drop points.
"The last two times this team won the title was coming from behind so I suppose we can do it for a third time."
Injury news
Samir Nasri and Eliaquim Mangala return injury for Saturday's home match against Hull.
"Both of them are fine and will be in the squad. No more injuries. We have the whole squad for the game."