Sean Dyche: Burnley boss defends lack of transfer spending
Last updated on .From the section Football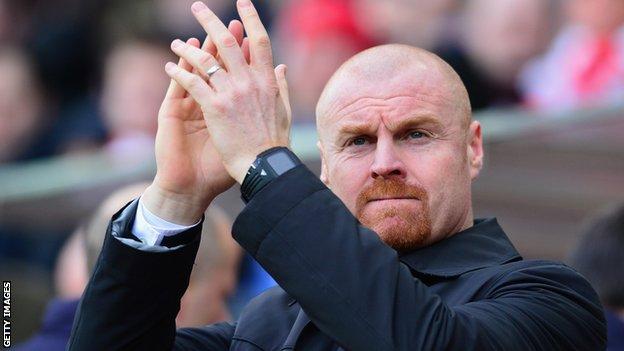 Manager Sean Dyche said it would be "inappropriate" for Burnley to spend tens of millions of pounds on players.
And Dyche admitted the Clarets, who are 17th in the Premier League table, had found the market tough.
He said: "We haven't got the backers some of the teams have got - even in the Championship."
Burnley did achieve their stated aim of hanging onto striker Danny Ings, despite firm interest from Liverpool.
The club came in for some criticism for their lack of new signings following the publication of an email they sent to agents enquiring about the availability of players.
But Dyche, who led Burnley to promotion from the Championship last season, defended Burnley's stance.
He added: "It's a tough market out there, a really tough market, and even going into the window and going into the summer I made it quite obvious that this is not a million or two market, this is tens of millions to really, really affect it heavily.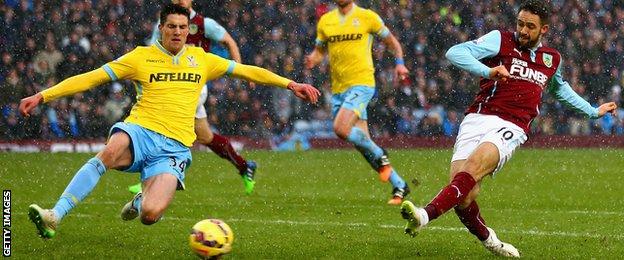 "That's something the club deemed inappropriate and I think it is for a club like Burnley to be spending tens of millions.
"You look at some of the debt in the Championship and that's usually written off through individuals who are willing to carry that debt.
"We haven't got that kind of scenario with our board members."
Sean Dyche on Danny Ings staying at Turf Moor
"The window passed without us signing anyone and there's a furore over it and yet people have forgotten the strength of the club and the board in stating for many months that Danny will not be sold.
"We made that clear and we've stood by our word but people soon seem to have forgotten that positive side of things."
Dyche on the email to agents
"That was just a little reminder because once the wheels start turning - and we all know agents are powerful in football now - one deal can lead to another, which opens up another.
"You have to make sure people are aware we are in the market and we are active, so if anything comes up late on, let us know. That's all it was."
Dyche on playing West Brom after a 4-0 defeat at The Hawthorns last September
Burnley play West Bromwich Albion at Turf Moor on Sunday (kick-off 12:00 GMT)
"That was a long time ago. We're a different animal. We're pleased with the growth in the side, the way they're adapting to Premier League football.
"It's a completely different occasion now, with the new manager (Tony Pulis), someone I know and I respect and a genuine good guy. They'll be well drilled and organised.
Dyche on Burnley's current position
"One hour after getting promoted, everyone said we've got no chance. Before the season everyone said we've got no chance.
"Game 10, they said even less chance than the no chance they said we had at the beginning. At the moment we're 17th in the Premier League, arguably the highest level of football in the world.
"So let's not forget where we're at, how we've done it and what we're looking to do in the future."