Jose Mourinho: Juan Cuadrado signing not a Chelsea panic buy
Last updated on .From the section Chelsea
Chelsea manager Jose Mourinho has denied claims that new signing Juan Cuadrado is "a panic buy".
The Colombian international winger joined from Fiorentina on Monday for an initial fee of £23.3m, with Mohamed Salah going the other way on loan.
Cuadrado, 26, arrived after fellow winger Andre Schurrle moved to Wolfsburg for £22m.
"He is not a panic buy. It's a reaction to Schurrle's departure," Mourinho said.
"I don't think it's the best thing for him that I speak about expectations. He needs his time."
After remaining publicly silent since the League Cup semi-final second leg against Liverpool on 27 January, Mourinho chose his words carefully in his news conference for Saturday's trip to face Aston Villa:
Mourinho on his silence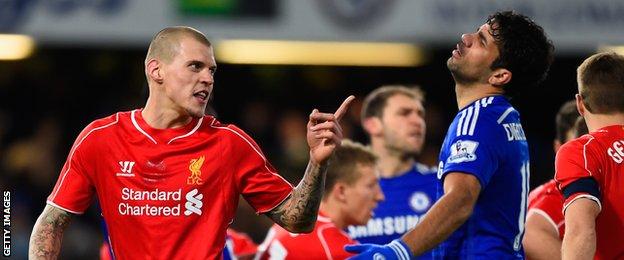 The Portuguese had not given a media interview since the Liverpool tie, after which striker Diego Costa was suspended for three matches by the Football Association for stamping on the Reds' Emre Can.
On 28 January, Mourinho was fined £25,000 by the FA for claiming that there was a "campaign" against his club.
When asked about his reasons for not speaking before or after last weekend's draw with Manchester City, he said: "Because if you want, you can make a silence very noisy. You could make noise with my silence. If I was a journalist I could make from silence lots of words."
Team news ahead of Aston Villa game
"Filipe [Luis] is injured and the player who is suspended is suspended," Mourinho said, pointedly not referring to Costa by name.
He also confirmed midfielder Cesc Fabregas was fit for selection.
Why has he never won a match at Villa Park?
"Because the opponents score more goals than us."