Guernsey FC record scorer Ross Allen eager to start matches
Last updated on .From the section Football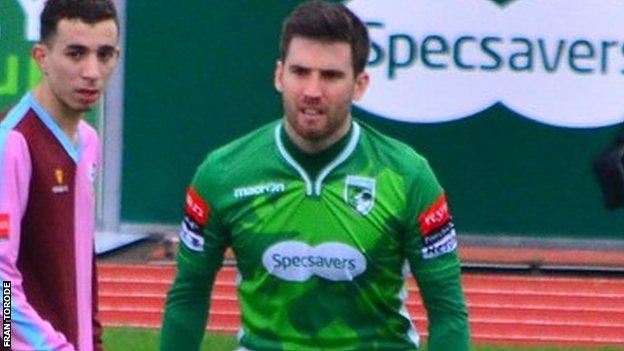 Guernsey FC's record scorer Ross Allen says he is eager to make his first start since the middle of September.
Allen, who has been a substitute in the Green Lions' last four matches since recovering from a knee injury.
"I just want to get some starts under my belt," he told BBC Guernsey.
"After four months out you start to think you're never going to come back, so to be involved with the squads is so good, it's great to be involved again."
Allen, who has scored 175 goals for Guernsey in less than four seasons, has gradually increased his minutes on the pitch, playing all of the second half in their last match,
Guernsey FC's upturn in form
13 December: Beat Whitstable Town 4-3 (a)
17 December: Lost to Worthing 4-3 (a)
20 December: Beat Sittingbourne 2-0 (a)
27 December: Beat Redhill 3-1 (h)
10 January: Beat Corinthian Casuals 3-0 (h)
17 January: Beat Walton and Hersham 3-0 (a)
24 January: Beat Tooting and Mitcham United 3-2 (h)
"There's always going to be a few weeks when you're worried about it, but then once you get to a certain point your subconscious takes over and you're fine," he said.
"You get on with it and you get to a point when you're not really thinking about it and you're confident about the injury being secure and safe again."
On Saturday, Guernsey travel to league leaders Burgess Hill Town, who have not lost a single match in the Isthmian League Division One South this season.
Their only defeats came against Conference side Dartford in the FA Cup and FA Trophy and Isthmian Premier club Margate in the Isthmian League Cup.
"It's the toughest game of the season," said Guernsey boss Tony Vance.
"Every team who faces them this season are the ones who want to try and stop that unbeaten run, and that's what we'll try and do."