Cardiff City: Russell Slade given full backing of board

By Rob Phillips
BBC Wales football correspondent
Last updated on .From the section Cardiff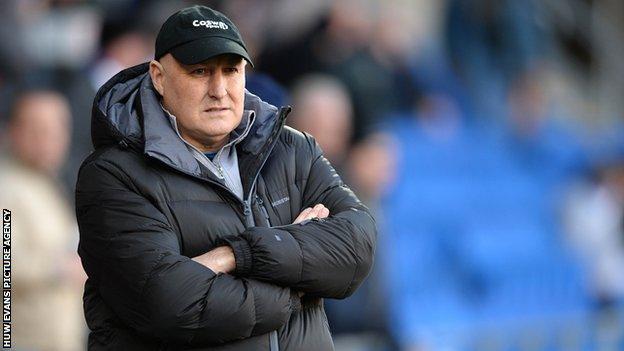 Chairman Mehmet Dalman says Cardiff City's board are concerned with the club's recent results, but are fully backing manager Russell Slade.
The Bluebirds have lost their last three league matches and are 13th in the Championship, seven points above the bottom three and 13 adrift of the play-off places.
In response to questions supplied by supporters, Dalman said: "The board is obviously not happy with the results.
"But we are fully behind the manager."
Dalman also said owner Vincent Tan was still fully committed to the Bluebirds, despite cutting wages and costs.
He insisted the Malaysian will turn the club's debt into equity at the "appropriate time".
Cardiff have only gained eight points out of a possible 30 from their last 10 matches in the Championship and face Sheffield Wednesday away on Saturday.
In Friday's press conference looking ahead to the match at Hillsborough, Slade admitted he was under pressure.
"I've said before there's not a day goes by in any manager's career that there's not an amount of pressure," he said.
"But of course that's only going to intensify and that will be the case if we continue on the run that we've had. But it can't rain forever, can it?"
Slade has brought in six players during the January transfer window.
Three of those, striker Eoin Doyle, winger Matthew Kennedy and forward Conor McAleny were signed on deadline day.
Meanwhile many of the players signed by previous manager Ole Gunnar Solskjaer have left.
Dalman and chief executive Ken Choo said the club's wage bill had to be brought down to a sustainable level and that Slade also wanted a "tighter group".
"For a Championship club we have an enormously high wages bill," said Dalman.
"Even when Ole Gunnar Solskjaer was here it was always our intention to trim to a manageable level.
"Now we are going through that and we used this transfer window to get the wages to a sustainable level for where we are today in the Championship."
Dalman said promotion was still the ambition, but the club had to adhere to financial fair play rules.
Asked whether the club were still aiming for promotion or fighting a relegation battle? Dalman said: "As long as it is mathematically possible to be promoted I will continue to hope.
"As long as it is mathematically possible to be relegated I will be concerned. I will look at both sides of the fence."
Dalman reiterated owner Vincent Tan's financial commitment to the club had not diminished following the decision to revert to wearing blue kit.
But he said: "We don't want to be a burden on Vincent Tan.
"We want to run this club without having to go to the owner for an injection of capital. We don't want to do that.
"This is how every business should run. I run my businesses back in the city on a profitable basis. I don't run them on people having to subsidise me.
"But Vincent Tan has always been very supportive from a financial point of view. I can never complain."
In the past Tan has also promised to convert the club's debt into equity and that was still his plan, according to Dalman.
"At the appropriate time that is the intention. The operative words are - the appropriate time.''
The club is currently facing legal action over its refusal to pay a final instalment of an historic debt to creditors Langston Corporation.
Cardiff say they will pay the £5.75m sum, only when they know the precise identity of Langston.
"We are in the middle of trying to find out who we owe money to," said Dalman.
"We need some clarity on our balance sheet and it will help us get there.
"We have always said when the time is right that is what we will do.
"Trust me, I will advise Vincent Tan strongly, the time is not right."