Africa Cup of Nations: Equatorial Guinea fined for crowd trouble
Last updated on .From the section Football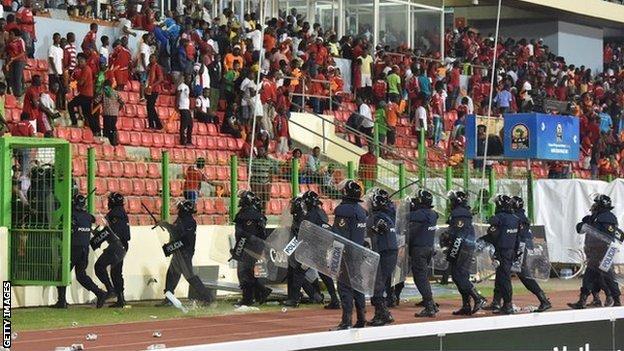 Equatorial Guinea have been fined US$100,000 (£65,000) for the crowd trouble during Thursday's Africa Cup of Nations semi-final loss to Ghana.
They have also been warned that a repeat of events at Malabo Stadium will result in the team being forced to play a game behind closed doors.
However, fans will be able to attend Equatorial Guinea's third-place play-off match against DR Congo on Saturday.
Equatorial Guinea must also pay for the treatment of 36 injured fans.
In a statement on Friday, the Confederation of African Football (Caf) said that 14 fans had been "transferred to hospital units for further investigations", adding that "one case requires close monitoring".
BBC Sport has learned that only one person remains in hospital, a Malian national, who has suffered broken limbs.
A spokesperson at the Malian Embassy in Equatorial Guinea told BBC Sport that the man had been clearing rubbish bins when he was attacked by rioting fans leaving the stadium.
Five hundred Ghana fans sheltered at the Ghanaian Embassy overnight before around 250 were flown home on Friday. The remainder are due to follow shortly.
The match at Malabo Stadium, situated on an island off the mainland, was halted towards the end of Thursday's match after Ghana fans massed behind a goal in an attempt to evade missiles thrown by home supporters.

Police tried to restore order, using batons and firing tear gas, while a police helicopter hovered over the stadium.
After a delay of more than 30 minutes, the match resumed for a further three minutes as Ghana completed a 3-0 win.
Caf said it had imposed the punishment on Equatorial Guinea for "the aggressive and recidivist behaviour of its supporters".
It noted that it was not the first time the home fans had caused problems at the tournament - there were incidents at earlier games against Gabon and Tunisia - but felt a fine and a suspended penalty was sufficient.
"To promote the spirit of fair play and friendship during the 2015 African Nations Cup, the committee has decided to suspend the closed doors match on the condition that supporters are not guilty of such an infraction in the third-place match," said Caf.
DR Congo defender Gabriel Zakuani has already said he wants the third-place play-off game called off because he fears for his safety.
"If they're throwing this [rocks and glass] at players, Eq Guinea, you can have 3rd place, I love football but prefer to live," Zakuani tweeted.
However, DR Congo head coach Florent Ibenge said his squad was "serene" and "preparing to play", adding: "We want to win this third place and give joy, but we are really not scared of this."
The 15,250-capacity Malabo Stadium will host Saturday's match.