Jose Mourinho: FFP rule-breakers should not be league champions
Last updated on .From the section Football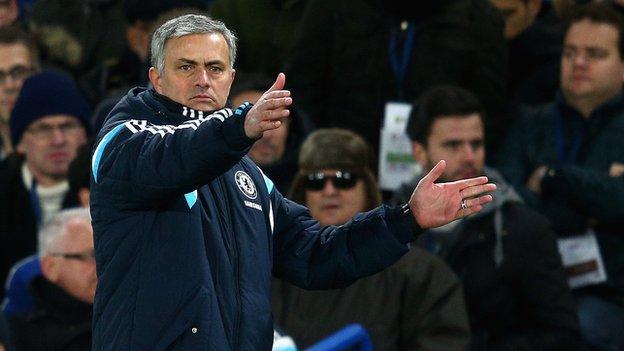 Chelsea boss Jose Mourinho suggested Manchester City should not be allowed to be league champions because they broke Financial Fair Play regulations.
City won the Premier League title last season but were then fined in May for breaching Uefa's financial rules.
The Premier League has its own form of financial regulation.
But Mourinho said: "I don't think a team can be champions when you are punished because you didn't comply with Financial Fair Play (FFP)."
City were fined £49m - £32m of which was suspended - and had spending restrictions imposed on them as part of their punishment for the breach.
They were also told their wage bill for the 2014-15 campaign must not exceed last season's total.
Yet City spent £28m on Swansea striker Wilfried Bony in January, the single biggest outlay by an English club in the winter transfer window.
What are Uefa's Financial Fair Play regulations?
The Club Financial Control Body was set up in June 2012 to oversee the application of the Uefa Club Licensing System and Financial Fair Play regulations
Clubs cannot repeatedly spend more than their generated revenues and clubs are obliged to meet all their transfer and employee payment commitments at all times
Higher-risk clubs that fail certain indicators will also be required to provide budgets detailing their strategic plans
Teams participating in Uefa club competitions have had their transfer and employee payables monitored since the summer of 2011
Read more about
FFP rules
As well as being prevented from winning their domestic title, Mourinho also believes teams should be docked points for failing to comply with FFP, although he did not specify how many.
The Premier League's financial regulations are not as stringent as Uefa's, but huge losses could be punished by the deduction of points when new rules come into effect after the 2015-16 season.
Premier League clubs cannot make a loss in excess of £105m across the 2013-14, 2014-15 and 2015-16 campaigns.
Mourinho, whose side are five points clear of City at the top of the table, added: "I enjoy the challenge of the English competition.
"The only thing that is not nice is that you compete against the ones who don't follow the same rules."