Afcon crowd violence 'exaggerated by western media'
Last updated on .From the section African
The head of African football says crowd trouble during the Africa Cup of Nations semi-final between hosts Equatorial Guinea and Ghana was exaggerated by the media.
Thursday's match was halted as missiles were thrown at players and supporters.
But Confederation of African Football (Caf) president Issa Hayatou said: "The press always dramatise, particularly the western press.
"The western media are simply here to perpetuate colonisation."
He added: "When something bad happens in Europe, they say it's an error. When something happens in Africa, they begin talking about corruption."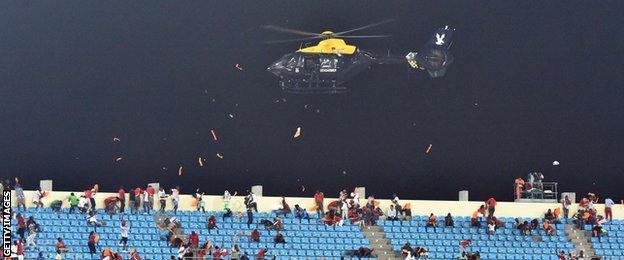 Equatorial Guinea have been fined £65,000 for the violence during the match at the Malabo Stadium, situated on an island off the mainland, which was won 3-0 by Ghana and saw 36 fans injured.
Play was suspended for 30 minutes as players ducked away from bottles thrown from the stands, Ghana fans sought safety behind a goal, riot police used tear gas and a helicopter hovered over the stadium.
The Ghana Football Association said the semi-final was "like a warzone" with their president Kwesi Nyantakyi claiming it was was lucky no-one was killed.
DR Congo defender Gabriel Zakuani called for his country to pull out of their third-place play-off against Equatorial Guinea at Malabo on Saturday (16:00 GMT) amid security fears.
Fifa president Sepp Blatter would not comment specifically on Thursday's violence but did support Hayatou's view on media coverage of African football.
"The media can play a role, must play a role, but they must play a role where the notions of respect and fair play are the basics," he said.
"Today, the world opens the newspapers, watches television, and sees only murders and killing. We never talk about princesses marrying any more."
Equatorial Guinea president Teodoro Obiang has blamed the "childish behaviour" of fans for the violence, saying it was caused by "enemies of progress and peace" who had organised violent demonstrations in the stadium.
Ghana will play Ivory Coast, who beat DR Congo 3-1, in Sunday's final (19:00 GMT) in Bata, on the west coast of Equatorial Guinea.